Malaysian schoolgirls forced to walk through muddy snake pit for 'team building' exercise (VIDEO)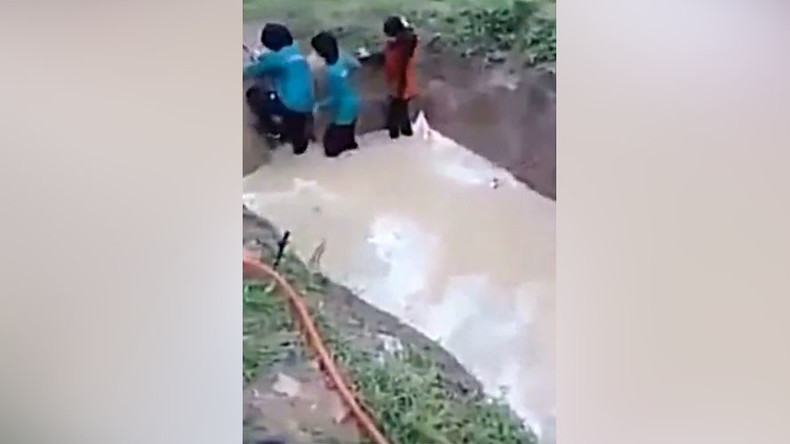 A video purporting to show frightened Malaysian schoolgirls forced to walk through a muddy snake pit has led to the suspension of the organizers. The ordeal was part of a team-building exercise at a camp supported by the Malaysian Civil Defense Department.
The three-minute video shows the terrified girls screaming and crying after being told to cross a muddy pool which they were told contained two pythons. As they waded through the pool, more snakes were thrown in.
The girls were also told to "get in and dive" by male instructors who were not seen in the footage. The men could also be heard laughing in the background.
The exercise was held in the western state of Perak, and was conducted by a school and the Civil Defense Department.
The department has suspended four coaches and six assistants for their role in the exercise, pending internal investigations, according to Reuters.
READ MORE: Rattled: GoPro video shows what plunging into snake pit looks like
Perak Civil Defense Department Director Colonel Mohd Noor Hassan Ashaari Sulaiman told state news agency Bernama that the camp's coordinators had modeled the exercise on training videos found on YouTube. However, he said the use of snakes was not approved by the department and was not part of its self-development module.
"This incident cannot be taken lightly," he said, adding that the snakes were not venomous.
The video has unsurprisingly prompted responses online, with one person on Twitter calling the use of snakes "nonsense."
They are so many ways to do mental or physical training kalau nak sangat membina diri, tingkatkan their confidence level. Why ular? Nonsense

— Aina (@iamnotaina) October 18, 2016
Another person called Malaysia "mental" after viewing the video.
WTF. They threw fucking snakes in the pool with the girls screaming and force them to climb out of that pit?! Malaysia, you are...mental.

— 2 3 cat run. (@virginangelic) October 18, 2016
One person said the tactic was actually good training, because the girls would soon realize that "snakes" populate the government offices, taking a jab at the country's politicians.
it's good training because when you're a grown up in Malaysia they also throw snakes into the government offices if yOU KNOW WHAT I MEAN!!1!

— play_nate (@play_nate) October 19, 2016