Beijing may grant Philippines rich South China Sea territory in unprecedented turnaround – sources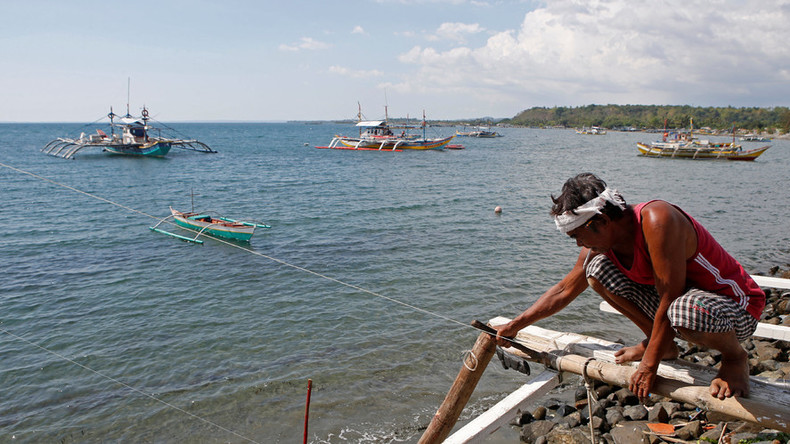 Beijing is considering giving the Philippines a slice of Scarborough Shoal – which China snatched in 2012 and wouldn't share even after a Hague court ruling – sources revealed to Reuters.
In effect, China may give the Philippines conditional access to rich waters just northeast of the disputed Spratly Islands, according to two sources close to the Chinese leadership. The conditions have not been specified in detail – and probably won't be until Presidents Rodrigo Duterte and Xi Jinping discuss this on Thursday in China.
"Everybody can go, but there will be conditions," one of the sources told Reuters, meaning fishermen from both countries will be welcome to use the rich territories.
"The two countries would have to form working groups to iron out details," the official added.
Another official told the agency the deal "will be a return to the Arroyo days," in reference to former Philippines President Gloria Macapagal Arroyo, under whom both countries' fishermen enjoyed access to the waters.
According to the Chinese sources, it will form part of a framework of more than 10 agreements the two nations are expected to sign.
This is a massive turnaround for Chinese-Philippine relations, which have done a 180-degree turn since Duterte took office on June 30 and began threatening US President Barack Obama's 'pivot' of relations to Asia.
The reversal on the South China Sea territory is also a huge change for the policy of the Chinese, which has largely cantered on calling dibs on territories there, and putting the international community on edge by building artificial islands with military installations, in square opposition to its neighbors' regional claims.
The Scarborough Shoal – claimed by Beijing as Huangyan Island and by Manila as Panatag – was seized by China in 2012, while Filipino fishermen were denied access to its fishing grounds. On July 12, after taking China to court, the Philippines had managed to secure a ruling at the Permanent Court of Arbitration at The Hague, which specified that no country held sovereign rights over Scarborough Shoal. The court ruling also rejected Chinese claims over much of the South China Sea, along with a 200-mile exclusive economic zone around the Spratly Islands.
China quickly declared The Hague's decision "null and void," and soon started building an artificial island on Scarborough Shoal, just northeast of the Spratlys.
However, Duterte has been an unpredictable presence on the chess board, and has been slowly drifting away from cooperation with Washington, and into the arms of Beijing, with whom Manila has recently been engaged in a tense rivalry.
After a series of warnings to Washington following recent spats, Duterte made good on his promise to fly to China for historic talks with Xi, where unprecedented cooperation across multiple sectors is being discussed. On Thursday, Duterte plans to raise the subject of the Filipino access to fishing grounds, a Manila official told Reuters.
All of this was revealed quite unexpectedly, as upon arrival, Duterte had told reporters that the South China Sea dispute "is not one of the topics on the agenda. It might crop up, but it is going to be a soft landing for everyone. No impositions."
He also said he expects to bring about "plenty of happiness for my country."
Chinese Foreign Minister Wang Yi, however, denied that any concessions on Scarborough would be offered.
"China's position on the South China Sea is clear and consistent. There is no change and there will be no change. This position accords with historical facts and international law," he said, despite being optimistic about Duterte's visit.
The rivalries in the region are complex, but mostly revolve around regional territorial claims over the South China Sea, and a group allying itself against China, which includes the United States, Japan, Taiwan, Vietnam and Brunei – each with their own claims.
The US and Japan are nervous that China's territory grabbing is interfering with free navigation in the sea, which connects the Pacific and Indian Oceans. Over $5 trillion a year in trade passes through the body of water.
You can share this story on social media: