'Stealing our freedom': Thousands rally in Budapest after top political newspaper shut down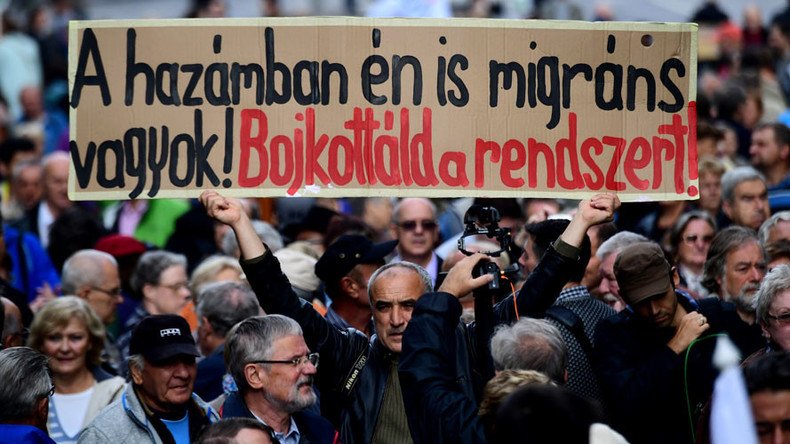 Thousands of people have rallied for freedom of speech in the Hungarian capital, Budapest. They were voicing their outrage at the sudden suspension of leading leftist newspaper Nepszabadsag (People's Freedom).
Some 2,000-3,000 people participated in the rally on Sunday, according to AFP. However, the Budapest Beacon, an online left-wing news source put the figure at 10,000-15,000 people.
"They are stealing our freedom!" the demonstrators were shouting. The protesters also held banners, saying "Our nation is in the stranglehold of politician criminals. Get out!" and "Stop the dictatorship of Fidesz", the ruling party headed by Prime Minister Viktor Orban.
"After they [the government] purchase every newspaper, every media outlet, they put their own people everywhere and manipulate the whole thing," protester Lajos Vig told AP. "It's impossible to hear anything, to hear a true word from these [remaining] newspapers."
The rally was sponsored by Hungarian opposition parties Együtt (Together), Politics Can Be Different (LMP) and Dialogue for Hungary (PM), the Budapest Beacon reported.
Nepszabadsag opened back in 1956, the year Soviet leader Nikita Khrushchev crushed a rebellion in the Warsaw Pact country. The paper has been critical of Viktor Orban's government. On October 8, it was suspended by its owner Mediaworks, owned by Austrian magnate Heinrich Pecina, who cited huge losses and an attempt to find "the best business model for the paper."
The paper's journalists were reportedly getting ready to move to another office, but were told that the publication was suspended and the authorities wouldn't allow them to enter the old office.
The circulation of Nepszabadsag was stopped and its website has been disconnected for more than a week.
"We want that this ambiguous situation ends and the owner clearly says what he intends to do," Deputy Editor Peter Peto said, as cited by AFP.
According to Mediaworks, Nepszabadsag was shut down due to its "considerable" losses and falling readership.
Nepszabadsag journalist Miklos Hargitai said Orban's government "doesn't tolerate any control or criticism, not even questions," adding that Orban hadn't given an interview to the paper in 10 years.
Fidesz press department released a statement, saying that "contrary to the opposition's claims, the closure of Nepszabadsag was a market, financial and competence issue."
"The future of Nepszabadsag was stolen by the current and past Socialist Party leadership, who were incompetent not only to govern the country but also to take care of their party's newspaper," the statement added, as cited by AP.
You can share this story on social media: