Fire engulfs German factory of world's largest chemicals producer BASF, 4 injured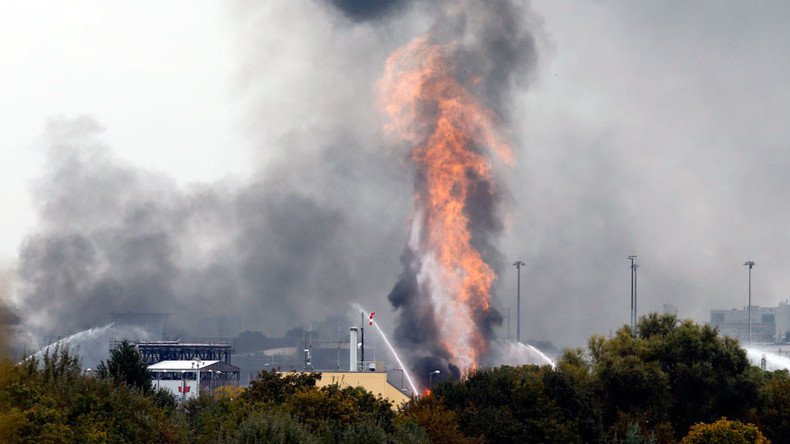 Fire and smoke have engulfed the premises belonging to German company BASF, the world's largest chemicals manufacturer, in the town of Lampertheim, local media report. Two people died and six company workers were injured in the incident.
The cause of the fire was not immediately clear. BASF, which employs more than 122,000 workers all around the globe, said it has informed local authorities about the incident.
BASF confirmed in a Twitter post that at least two employees had died in the explosion and subsequent fire, while six more people were injured and two others are still missing.
Beim heutigen Brand kamen nach jetzigem Kenntnisstand 2 Mitarbeiter ums Leben, 6 Menschen schwerverletzt, weitere leicht, 2 noch vermisst

— BASF DE (@BASF_DE) October 17, 2016
The company was quick to calm the situation down, saying in a statement that the incident at the chemical factory poses no threat to the environment.
"The environmental measurement vehicles of the BASF are running back and forth outside the facility," the statement said, adding there were no indications of any contamination so far.
In the next statement, however, BASF urged residents to refrain from leaving their homes and keep the doors and windows closed because of the "torch activity." It added that the factory's steam crackers have been shut down on safety reasons.

Some social media users accused BASF of silencing the situation by commenting on the company's Facebook posts: "Typical BASF, I live here and have to smell the stench. They do nothing bad and sweep incidents under the carpet. The company must protect residents from such poison attacks."
Others wished the injured BASF workers a speedy recovery and criticized the company's "bad communication."
According to Die Welt, there have been 13 incidents at BASF facilities this year. In June, following an incident with phosgen at the company's chemical plant in Mainz, the regional Environment Ministry announced an inspection with final results to be available by November.
You can share this story on social media: