Offensive on ISIS 'capital' Mosul could start Monday, Red Cross warns of 1mn refugees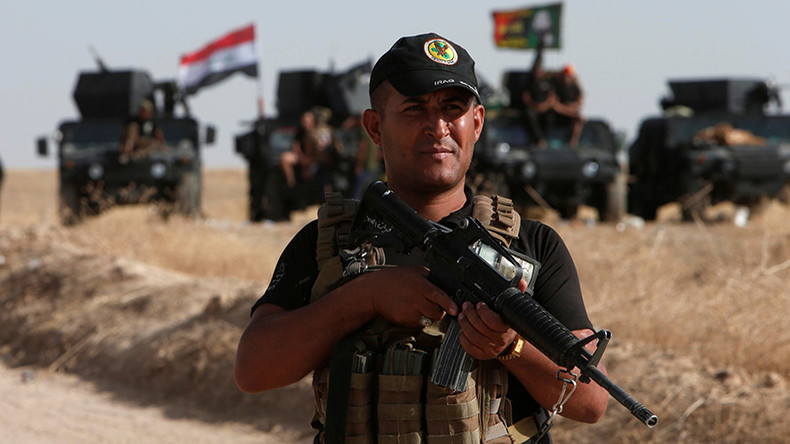 The Iraqi army and allied militiamen may start the offensive against the ISIS "capital" in Iraq, Mosul, on Monday, media outlets reported, citing governmental and Kurdish sources. The International Red Cross warned the move could create a million refugees.
The operation to drive Islamic State (IS, formerly ISIS/ISIL) out of Iraq's second-largest city Mosul is due to start "early on Monday," Sky News Arabia reported citing sources in Iraqi Kurdistan. Similar reports have been filed by Russia's RIA Novosti news agency, citing Iraqi government sources.
The action is set to be backed by the US-led anti-IS coalition. However according to RIA, which cited a military source, the operation might be delayed, since the terrorists are now allegedly aware of the exact plan. The jihadists have hence "booby trapped roads" to Mosul forcing the Iraqi military to change plans, the source adds.
Mosul was overrun by jihadists in June 2014 and since then, IS militants have considered it their capital in Iraq. On Sunday the Iraqi army dropped thousands of leaflets onto the encircled city, with the papers warning of their advance and urging people to avoid IS hideouts.
According to TASS, Iraqi national police units (NP) are set to push from the south while the country's special forces will advance from the east. The Iraqi army and various militiamen should start recapturing Mosul from the north.
"We promise you that victory is near and that it will be a great victory" Ahmed al-Assadi, a spokesman for the Popular Mobilization Units (PMU) is quoted by the CNN. The Iraqi PMU is an umbrella organization for the alliance consisting of up to 40 militias, mainly that of Shiite, but also Sunni, Yazidi and Christin ones.
Kurdish Peshmerga forces are also set to take part in the advance on Mosul. According to Associated Press a total of 25,000 Iraqi troops and militiamen would take part in the operation.
Red Cross & Red Cresent on Mosul op
The International Committee of the Red Cross (ICRC) has warned of the humanitarian catastrophe that the offense may result in.
"The humanitarian situation in Iraq as a whole is extremely complex" Sara Zawqari, representative of the ICRC for Iraq told Sputnik news agency.
"We are expecting hundreds of thousands fleeing. A number may reach up to a million. This is a huge number and all these people would need basic necessities: shelter, food, water, medical supplies." Zawqari went on to say.
However according to the Red Crescent there is "an emergency" plan in place for Mosul, so that a humanitarian catastrophe can be avoided, RIA reports.
Just two days ago Lise Grande, the UN Humanitarian Coordinator for Iraq warned that civilians might be used by jihadists as human shields. "You would have hundreds of thousands of people who are held as human shields," she said as quoted by Reuters.
Speaking on the sidelines of the BRICS summit in India on Sunday, Russian President Vladimir Putin urged the US-led coalition to avoid civilian casualties during the Mosul operation.
"We hope that our American partners and in this case French partners as well, will act accurate and will make everything possible to minimize, or better, avoid casualties among civilians," Putin said.
Row between Iraq and Turkey on Mosul siege
On Sunday Turkish Foreign Minister Mevlut Cavosuglu announced that Ankara is against Shiite militiamen spearheading the offensive on Mosul.
"We have a very clear position regarding this operation. It should not begin with Shiite militias but rather with the Iraqi army backed by local forces," the official noted.
On October 10, Iraqi Prime Minister Haider Abadi rejected any role for Turkish forces in the upcoming offensive on Mosul. "Turkish forces will not be allowed to participate in the liberation of Mosul under any circumstances," Abadi said.

Turkey officially maintains 150 troops in Iraq near Mosul as well as a staff of "military advisors" likely numbering in the thousands. Baghdad repeatedly called on Ankara to withdraw its military (once subjected to a mutual agreement) saying the presence violates Iraqi "sovereignty."