'Maybe I said something wrong': Putin mocks US surveillance during presser power blackout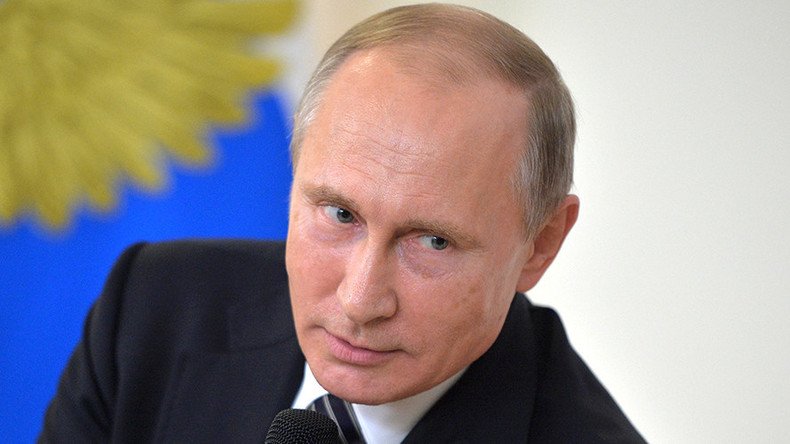 During BRICS presser in India, Vladimir Putin warned all Russian journalists in the room of being a target of US intelligence. Shortly afterwards, a brief power outage made the Russian president jokingly wonder if he had "said something wrong."
The US official institutions are "snooping and eavesdropping on everyone," Putin said at the beginning of the press conference while commenting on US Vice President Joe Biden's statement on the possibility of cyberattacks against Russia.
He then warned the Russian journalists accompanying him at the summit that they are all of particular interest to the US National Security Agency (NSA).

"You are all objects of inquiries by the respective [intelligence] services," Putin said.
"You are the bearers of certain information. You can see something, hear [something], talk to someone." All of that is being "systemized, put together and analyzed – this is what the NSA is doing," Putin noted.
The President was answering a question on WikiLeaks allegations that Brazil's current leader Michel Temer was recruited by US intelligence.
As Putin was answering, the room experienced a brief power outage, with the President's microphone switching off.
"I said something wrong apparently," Putin joked, with the journalists present bursting into laughter.
The Russian leader noted that he "is not aware" of whether Temer was indeed recruited by US intelligence services and that "he is not interested" in the issue.
In June 2013, now ex-employee of the NSA Edward Snowden revealed that the agency has been spying on millions of average Americans, creating public outrage. His revelations showed the US has been running numerous spying programs, including on foreign soil.
The information Snowden leaked to several media outlets also revealed that US intelligence was intercepting telephone conversations of world leaders and top officials, including that of Germany, Brazil, and other countries.
On June 21, 2013, the US Department of Justice issued spying charges against Snowden for violating the Espionage Act of 1917. Two days later he fled to Moscow, where Russian authorities granted him asylum.
You can share this story on social media: