20 Serbs arrested in Montenegro over planning armed attacks on election day - police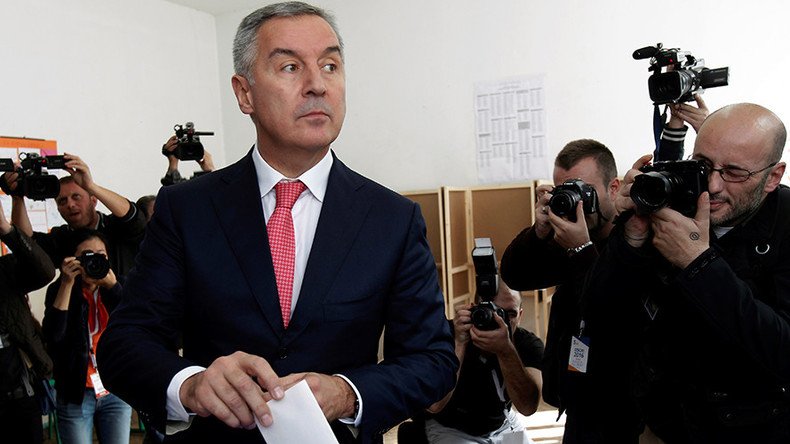 Montenegrin police detained a group of Serbs suspected of planning armed attacks on Sunday, the day of the country's tense parliamentary elections. The group had also allegedly intended to capture Prime Minister Milo Djukanovic.
Police chief Slavko Stojanovic said in a statement that 20 Serbian citizens suspected of planning armed attacks after Sunday's parliamentary vote were arrested. He said one more was on the run.
"They entered Montenegro intending to get automatic weapons, and later this evening to attack institutions, the police, and representatives of the state, including top state officials," Stojanovic said in the statement as cited by Reuters.
READ MORE: NATO in Montenegro: Securing the rear before Barbarossa II?
A later statement from a Special State Prosecutor on Sunday confirmed the group had intended to capture Prime Minister Milo Djukanovic.
Earlier, local TV Pink M reported that Bratislav Dikic, the former commander of the specialized police force Gendarmerie of Serbia, and his group which included more that 15 members, had "large quantities of weapons and ammunition" in their possession. They were picked up in the Podgorica area Saturday night after entering Montenegro, reports B92 broadcaster.
The group were charged with "forming a criminal organization and terrorism" according to Stojanovic's statement.
Serbia's prime minister Aleksandar Vucic said Sunday that he has been informed of the arrests and that authorities have no information about the group "the day this is happening is strange, and that is all I will say,'' Vucic said before adding that he will issue further comment on Monday, once the election in Montenegro is over.
Montenegro is experiencing rising tensions amid its national vote as Djukanovic has presented it as a choice between becoming closer with NATO and the European Union or returning to Russia under the opposition.
"Everyone is aware that the fate of the state will be decided... whether Montenegro will become a member of the EU and NATO, or a Russian colony," he said on Friday.
Opposition groups have accused Djukanovic of "corruption, nepotism and economic mismanagement."
Polling stations close at 18:00 GMT, with initial results expected an hour later.
You can share this story on social media: