French police & migrants clash for several hours at Calais 'Jungle' camp (VIDEO)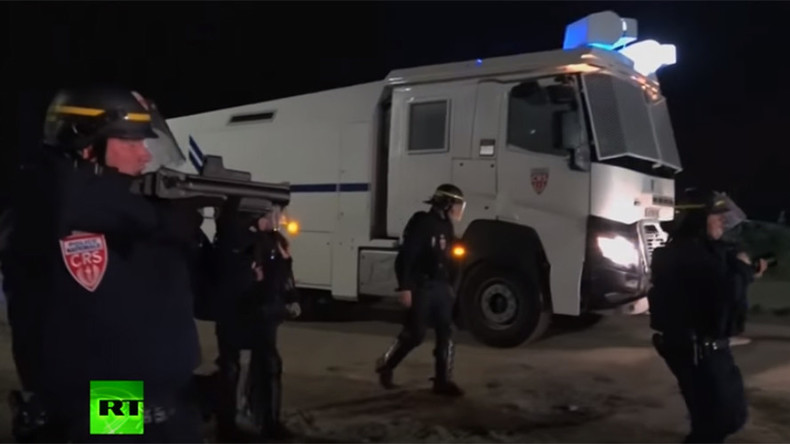 Police had to use a water cannon and tear gas, as well as rubber bullets to drive away a crowd of migrants protesting at the edge of the French makeshift 'Jungle' camp in a clash lasting for several hours.
The violent stand-off took place Saturday night.
'Jungle' inhabitants threw rocks and tear gas shells back at officers in retaliation for attempts to disperse them.
No casualties or detentions have been reported.
Such incidents have not been uncommon in Calais lately.
On Thursday, police clashed with a crowd of some 200 migrants who reportedly tried to board trucks and other vehicles heading to Britain through the Calais ferry terminal. Police had to use tear gas grenades to disperse the mob invading the motorway.
Tensions around the notorious 'Jungle' remain high, with French authorities preparing to "completely dismantle" the camp. It currently houses between 7,000 and 10,000 people, most of whom are seeking a way to get to the UK to claim asylum there.
On Saturday, workers started erecting a controversial wall along the motorway leading to the ferry terminal. A crane was deployed to the site to lift four-meter-high cement panels to prevent migrants from blocking traffic and jumping onto trucks.
Calais Mayor Natacha Bouchart has been opposing the move, saying there was no reason for the wall separating the camp now that the government has decided to destroy it, AP reported. But the local "prefecture" proceeded with the construction of the barrier, a 2.7-million-euro project funded by the United Kingdom, where the majority of camp inhabitants want to end up.
You can share this story on social media: