'Ironclad commitment': US vows to protect S. Korea & Japan after Pyongyang's failed missile test
Published time: 16 Oct, 2016 03:04
Edited time: 16 Oct, 2016 03:55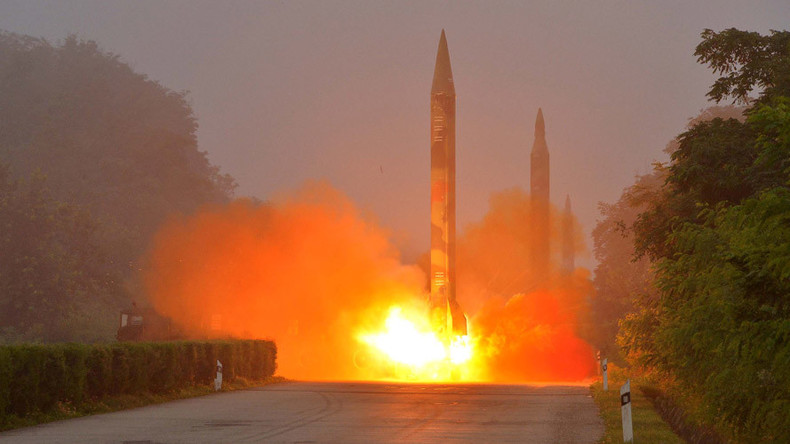 North Korea attempted to launch another intermediate-range ballistic missile on Saturday, according to the Pentagon. Both the US and South Korea condemned the launch of the rocket, which reportedly failed immediately after lift-off.
US Strategic Command announced that its monitoring systems detected the launch in northwestern North Korea on Saturday at 12:03pm local time. The rocket was presumed to be a Musudan intermediate-range ballistic missile, and failed immediately after launch, the statement added, while emphasizing that the projectile never posed a threat to the US.
"We strongly condemn this and North Korea's other recent missile tests," said US Navy Commander Gary Ross, a Pentagon spokesman. "Our commitment to the defense of our allies, including the Republic of Korea and Japan, in the face of these threats, is ironclad. We remain prepared to defend ourselves and our allies from any attack or provocation."
South Korea's military also confirmed that the rocket failed immediately after takeoff while condemning the attempt.
"The North's ballistic missile launch is a clear violation of UN Security Council resolutions and we strongly condemn the North's illegal act of provocation," the South's office of the Joint Chiefs of Staff (JCS) said in a statement.
Saturday's failed launch attempt was the latest in a series of missile and nuclear tests conducted by North Korea this year. In September, after conducting its fifth nuclear test, Pyongyang claimed to have the capacity to launch a nuclear attack.
The North also repeatedly warned the US and its South Korean "puppets" not to deploy the Terminal High Altitude Area Defense (THAAD) anti-missile system to South Korea. The US and South Korea continue to insist that THAAD will keep North Korean nuclear ambitions at bay, disregarding Russian and Chinese concerns over security in the region.
Seoul which hopes to install THAAD batteries before the end of 2017, meanwhile wants to strengthen its missile defense capabilities.
On Friday Gen. Lee Sun-jin, chairman of South Korea's JCS, announced that "the generals agreed to continuously develop effective response measures in order to deter, and if necessary, respond to additional provocations from North Korea."
The top brass general particularly stressed the importance of strengthening tailored deterrence strategy to deal with North Korea's submarine-launched ballistic missiles.