S-400 anti-aircraft missile systems delivery to India can begin in 2020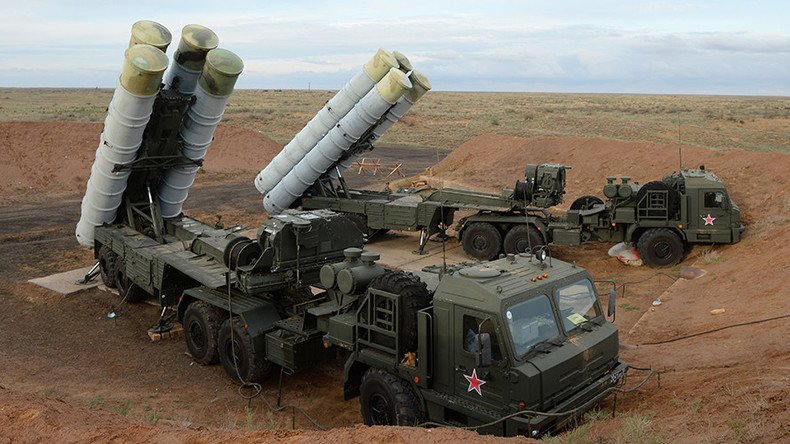 Delivery of Russia's most advanced anti-aircraft defense system, the S-400 Triumph, to India could begin in 2020 according to an agreement signed by Indian Prime Minister Narendra Modi and Russian President Vladimir Putin at the BRICS summit in India.
"An intergovernmental agreement has been signed today, under which the Russian side has undertaken to deliver S-400 [to India]," head of the Russian state-owned defense and technology giant Rostec Sergey Chemezov told reporters on the sidelines of the BRICS summit on Saturday.
"We will then start preparing the contracts and I hope that in the first half of 2017 we will complete and sign these contracts and the production will start. I believe the delivery will begin somewhere in 2020," he added.
Russia's Deputy Prime Minister Dmitry Rogozin said the agreement on S-400 delivery is highly important as it shows Russia's willingness to strengthen strategic partnerships with its main allies.
"S-400 it is our newest system. We are currently equipping our own military forces with it and we are making an exception only for our closest allies, such as India and China.
"The fact that we have reached agreements with both India and China [regarding S-400 delivery] shows a lot. It shows that Russia exports its most advanced technologies to the countries it trusts, with which it is building strategic partnerships," he stressed, mentioning Russia's agreement on S-400 exports with China, the first foreign buyer of the system. That deal was announced in the spring of 2015. According to media reports, the transaction amounted to about $3 billion.
"S-400 [is] a real leader, a global brand that left behind even the Americans," he added.
The S-400 is the most advanced anti-aircraft defense system in Russia, and is unparalleled in the world. Manufactured by Russian producer Almaz Antey under a contract with the Russian Defense Ministry and introduced into service in 2007, the cutting-edge S-400 system consists of a set of radars, missile launchers and command posts. It is designed to ensure air defense using long- and medium-range missiles that can hit both land and aerial targets, including tactical and strategic aircraft as well as ballistic and cruise missiles, at ranges up to 400km (248 miles).
In August this year, the S-400 was delivered to a surface-to-air missile (SAM) regiment in Crimea. The Defense Ministry had previously announced that 16 regiments of the Russian Army would be equipped with S-400s by the end of the year. In 2015, the hardware was also deployed to Russia's Arctic region and in Syria to the Russian Air Force base in Latakia.
India has been a traditional buyer of Russian arms since the 1950s. Over the last five years, about 70 percent of the country's military purchases have come from Russia.
According to Rogozin, Russia retains the top spot in the Indian market of arms and military equipment.
"To date we are the main suppliers of arms and military equipment to the Indian market," said Rogozin in Goa.
You can share this story on social media: