Russia tests 'unrivaled' new radio-electronic weapon – producer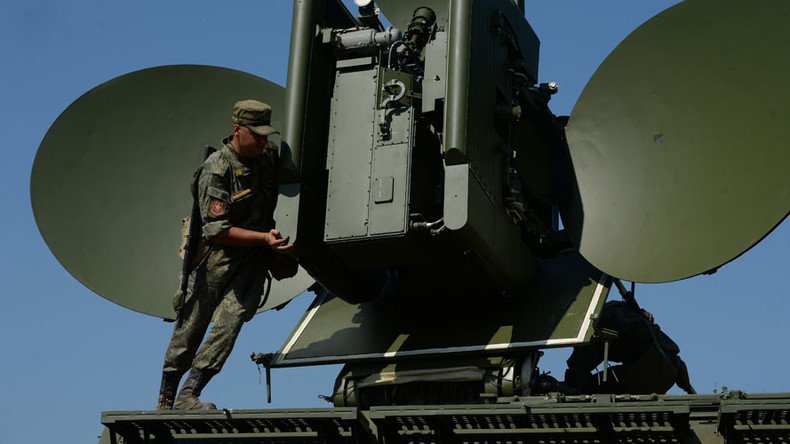 Russia has developed and successfully tested radio-electronic weapons systems unmatched anywhere in the world, RIA Novosti reports, citing the manufacturer.
"Real prototypes of such weapons have already been created and they have proven their efficiency," a representative of Russia's United Instrument Manufacturing Company (OPK), which is in charge of the production, told RIA Novosti.
The new technology falls under the somewhat loose term "weapons based on new physical principles." The grouping includes armaments that employ physical processes and phenomena not generally used in modern weapons. Laser and sonic weapons are among other examples of such technology.
According to the OPK representative, the brand-new Russian system is as yet unrivaled.
"This is a completely new type of weapon, which has no analogues in our country, and I daresay, in the world."
The announcement came during the 'Arms High-tech' military exhibition currently taking place in Armenia. The state-of-the-art system is capable of disabling various types of targets without using the traditional rounds or shells. Instead, the weapon uses 'directed energy.'
"It conducts indirect physical impact on the on-board equipment of aircraft or drones and neutralizes precision-guided weapons," RIA quotes the OPK representative as saying.
The weapon was for the first time presented to Russian military officials in September this year during a closed performance at the annual military expo 'Army 2016' outside Moscow.
In February, US Air Force General Philip Breedlove warned of the rising electronic warfare capabilities in Russia, the National Interest reported.
"They [Russia] have invested a lot in electronic warfare because they know we are a connected and precise force and they need to disconnect us to make us imprecise," Breedlove said.
The US is working on numerous projects of non-conventional weapons, including radio, electronic, infrared and laser ones.
"We have electronic warfare capability – we probably do not have the capacity we need now," Breedlove noted.
In April this year, Russia's Radio-Electronic Technologies Concern (KRET) announced it has started trials of a tactical electromagnetic combat complex fully integrated with the latest air-defense systems.
The system is designed to suppress any existing and prospective airborne electronic equipment, making it impossible for the aircraft and satellites to proceed with their missions.
You can share this story on social media: