Russian submarines, strategic missile troops test fire 3 long-range ballistic rockets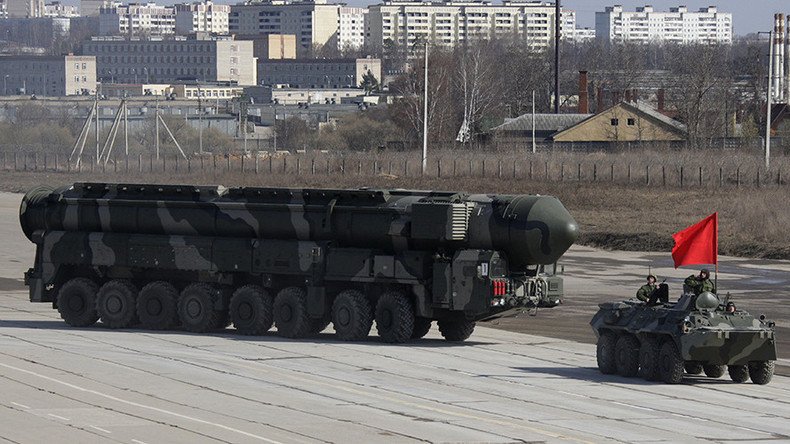 Russia has successfully conducted three separate ballistic rocket launches. Two tests were carried out by Russian submarines from the Northern and Pacific fleets, while another intercontinental ballistic missile was launched from the Plesetsk space center.
All of the tests were carried out as part of combat readiness drills and had successfully hit designated targets, the Russian Defense Ministry announced on Wednesday.
READ MORE: Russia worried less powerful US nuke will be 'more tempting' to use
From the Sea of Okhotsk, nuclear submarine Georgiy Pobedonosets from Russia's Pacific Fleet launched a ballistic missile into the Chizha target range located in northern Russia.
The submarine-launched ballistic missile (SLBM) managed to successfully hit the target at a designated time, the Ministry of Defense said, adding that the rocket was launched from a Project 667BDR Kalmar Class vessel that was positioned under water.
The launch demonstrated a "high level of readiness of the Pacific Fleet Submarine Force and confirmed the effectiveness of command and control system of the naval strategic nuclear forces," the ministry said in a statement.
Meanwhile, in the Barents Sea, Russia's Delta-IV class Novomoskovsk strategic nuclear submarine conducted a launch of a R-29RM Sineva ballistic missile, the Defense Ministry said. Also launched from a submerged position, the warhead successfully hit its target at the Kura testing range on the Kamchatka Peninsula.
"The simulated warhead successfully hit the designated target …confirming the high level of combat readiness in the Northern Fleet's submarine force," the statement from Russia's MoD said.
READ MORE: Moscow 'keeps in mind' US readiness to use nukes, prepared for 'countermeasures'
Sineva missiles have long been considered a rival of the Bulava, which eventually took over as the designated strategic nuclear weapon of the Russian Navy. The solid-propellant Bulava is simpler in operation than the liquid-propellant Sineva, allowing for less bulky and quieter storage and launch equipment to be on board.
In a third test reported on Wednesday, Russia's Strategic Missile Forces conducted a successful launch of an RS-12M intercontinental ballistic missile (ICBM) from the Plesetsk space center, successfully striking a target on the firing range in Kamchatka.
The RS-12M also known as Topol-M is an intercontinental ballistic missile with a maximum range of 10,000 km (6,125 miles). It can carry a nuclear warhead with a yield of up to 550 kilotons.
At the beginning of 2016, the Strategic Missile Forces announced that they will conduct 16 ICBM launches this year. The MoD also promised to increase test launches next year to test technical readiness of missile systems.
You can share this story on social media: