Final appeal for Pakistani Christian mother facing execution for blasphemy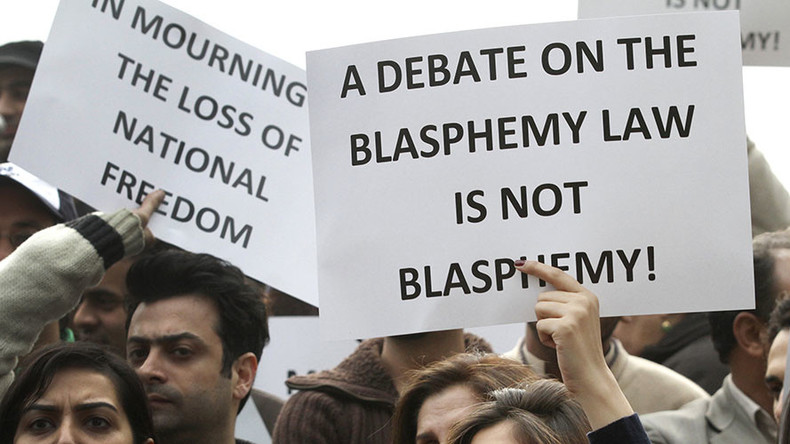 A Pakistani Christian who was sentenced to death in 2010 for allegedly insulting the Prophet Mohammed after an argument with a group of Muslim women is to appeal her sentence at the country's supreme court.
Asia Bibi has been caught up in Pakistan's notorious blasphemy laws following the incident over a bowl of water in the Punjab village of Itanwali.
Lawyers hope the final appeal for the Christian mother on Thursday will pave way to prevent future convictions under the controversial law.
READ MORE: Pakistani Christian boy tortured, mutilated, burnt
The case dates back to June 2009 where a fight broke out between Bibi and her Muslim co-workers while she was laboring in a field, according to AFP.
When Bibi was asked to fetch water, some Muslim women protested, stating that as a Christian, she should not touch the water bowl.
Shortly after, the Muslim women complained to a local cleric accusing Bibi of insulting the Prophet Muhammed, an accusation that is punishable by death under Pakistan's harsh blasphemy laws which are often used to settle personal vendettas.
A widely controversial issue in the Muslim-majority country, those accused of blasphemy have been subjected to violent and bloody retribution after rumors quickly spread, with vigilantes taking matters into their own hands.
#AsiaBibi is facing execution for being Christian in Islamic Pakistan. The evidence of 'blasphemy' is nonexistent. Sick, backward brutality.

— Rita Panahi (@RitaPanahi) October 10, 2016
Mustafa Qadri, a human rights expert on South Asia told AFP that vulnerable minorities in Pakistan are at risk.
"There is no question that what is at stake is the very soul of the state and Pakistan society: does Pakistan respect the rights of the most vulnerable?" Qadri said. "Does it defend those rights against spurious allegations even where those allegations involved matters that are sacred to most Pakistanis?"
Bibi became the focal point for both Pakistan's liberals and conservatives after her case was linked to the assassination of Salmaan Taseer in January 2011, who was the then governor of Punjab.
READ MORE: Pakistan media attacked after blackout during execution of liberal governor's killer
Taseer had voiced public support for Bibi and lobbied for a presidential pardon for the woman, even taking a step further to publicly denounce the blasphemy legislation.
The governor was shot in the back by his police bodyguard, Mumtaz Qadri, who criticized Taseer's outspoken views on Pakistan's blasphemy laws.
Qadri was hanged in February this year for the governor's killing and hardline protests erupted across Pakistan following his execution.
Bibi's family has been in hiding since Qadri's execution, according to the Guardian.
Her husband, Ashiq Masih, told the newspaper that his wife would continue to be labelled as an "infidel" even if acquitted.
"If Asia is acquitted, we will never be able to return to our previous life, as my wife has been labelled an infidel and an infidel doesn't deserve to survive in a society full of hatred," Masih said. "Too many want her dead and have put a bounty on her head."
If the three-judge Supreme Court bench upholds Bibi's conviction on Thursday, her only recourse will be a direct appeal to the president for clemency.
Bibi's case has caught the attention of the Vatican - Bibi's daughter Esham had a face to face meeting with Pope Francis in April 2015, with the pontiff offering prayers for her mother.
Human Rights Watch has tallied that 17 people, including Bibi, remain on death row for blasphemy.
READ MORE: ​Pakistan sentences British paranoid schizophrenic to death for blasphemy