Iraqi PM slams Turkey's Mosul incursion, mocks Erdogan with 'video call' jibe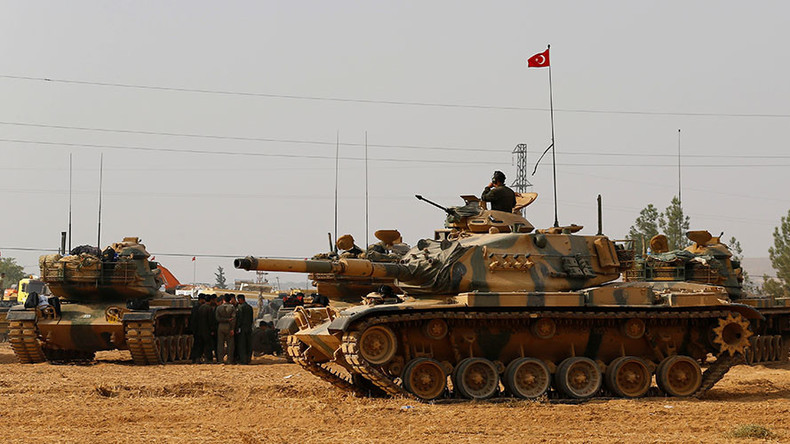 Tensions between Turkey and Iraq appear to be at boiling point after the Iraqi prime minister condemned Ankara's participation in retaking the Islamic State-held city of Mosul. The Turkish president had previously told the Iraqi PM "to know his limits."
"We will liberate our land through the determination of our men and not by video calls," Iraqi Prime Minister Haider al-Abadi tweeted late on Tuesday night.
The mocking message was an apparent reference to Turkish President Recep Tayyip Erdogan's appearance via a nationally broadcast video call to a TV reporter amid a failed coup attempt in July.
Earlier on Tuesday, Erdogan said that Turkish forces must take part in the much-anticipated operation to retake the Iraqi city of Mosul, currently held by Islamic State (IS, formerly ISIS/ISIL) terrorists.
The Turkish leader then drove his point home in even stronger terms.
"The Iraqi prime minister is insulting me, first know your limits," he told a gathering of Islamic leaders in Istanbul, according to AP.
"You are not my interlocutor, you are not at my level, you are not my equivalent, you are not of the same quality as me," Erdogan said, addressing al-Abadi's criticism of the Turkish military presence on Iraq's territory. "Your screaming and shouting in Iraq is of no importance to us. You should know that we will go our own way."
Turkey-Iraq relations have been at an impasse since last December, when Ankara deployed troops to the region of Bashiqa, northeast of Mosul, with a stated goal of anti-IS training.
Baghdad called the deployment a "blatant violation" of Iraq's sovereignty and demanded that the Turkish troops be withdrawn immediately, but Ankara has consistently ignored the request.
"Turkey does not move on orders from others ... Turkey's presence in the Bashiqa camp will remain until Mosul is rid of Daesh [Arabic pejorative for IS] ," Numan Kurtulmus, Turkey's deputy prime minister, told state news agency Anadolu on Tuesday.
With the battle for Mosul about to begin, the US has once again called upon Turkey to respect Iraqi sovereignty.
"All of Iraq's neighbors need to respect Iraqi sovereignty and territorial integrity. The Turkish forces that are deployed in Iraq are not there as part of the International Coalition. The situation in Bashiqa is the matter for the governments of Iraq and Turkey to resolve," State Department spokesman John Kirby told reporters on Wednesday.
You can share this story on social media: