Syria accuses Ban Ki-moon of damaging UN reputation by taking sides in conflicts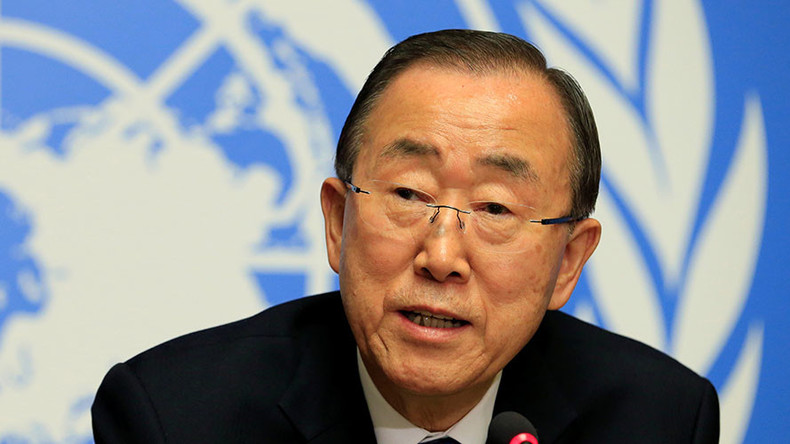 Outgoing UN Secretary General Ban Ki-moon has damaged the international body's reputation by taking sides in conflicts around the globe, Damascus said on Tuesday, particularly pointing to the wars in Syria and Yemen.
Syrian state media quoted a source in the country's Foreign Ministry as saying that, during his term, Ban has failed to maintain the UN's sincerity, integrity and independence.
The United Nations secretary general "has repeatedly harmed the credibility and objectivity of the UN, having made it subject to the will of some sides and made himself a party in the problems sweeping our world today without showing the least commitment to the ethics and requirements of his mission as per the principles and goals of the UN Charter," the Foreign Ministry source said.
The official claimed that Ban is among those "legally and morally" responsible for the current situation in Syria, as he opted to act in line with the policies of "some countries" towards Damascus.
He also accused the UN chief of providing political cover to terrorists and being part of a propaganda machine against Syria by producing misleading and groundless statements.
The Syrian official added that "indelible" damage to the UN was done in June when Ban removed the Saudi-led military coalition, which is currently bombing Yemen, from the UN's list of states and armed groups that violate children's rights.
READ MORE: Saudi-led coalition removed from 'wildly exaggerated' UN blacklist of child-killers in Yemen
Ban gave an interview to Deutsche Welle on Tuesday in which he blamed Syrian President Bashar Assad for the casualties in the Syrian conflict.
"It's true that because of his failure of leadership so many people have died, more than 300,000 people have been killed," he said.
But the UN chief refrained from answering a question on whether he considers Assad to be a mass murderer, saying that it was for other institutions to decide.
Ban also urged the US and Russia to resume cooperation in Syria and "restore the cessation of hostilities, so we can deliver life-saving humanitarian assistance."
"We have to deliver a minimum for the 5 million people who are in besieged and hard-to-reach areas," the 72-year-old stressed.
The South Korean politician, who took charge of the UN in 2007, will quit his job as secretary general at the end of 2016 after serving two terms.
You can share this story on social media: