1,000s march for peace, against NATO in Berlin (VIDEO)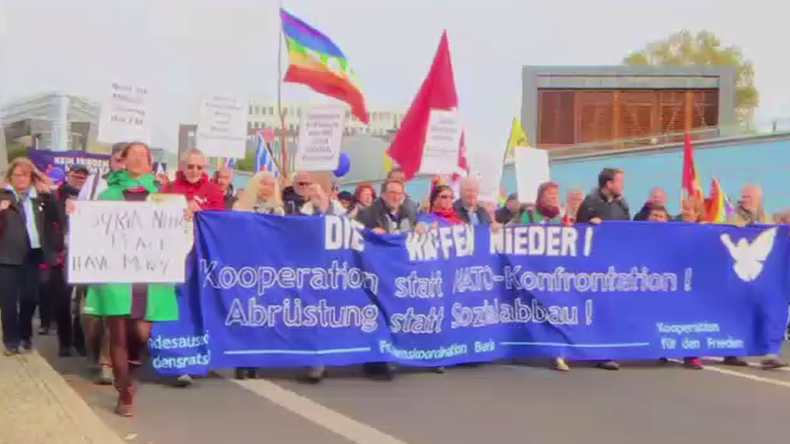 Thousands of anti-war demonstrators came out for a rally in Berlin over the weekend to protest the growing militarization of German policies and NATO's confrontation with Russia over Syria.
On Saturday, protesters marched from Alexanderplatz to the Brandenburg Gate, where the demonstration continued with several speeches. German police estimated the number of participants at over 5,000, while the organizers said between 6,000 and 8,000 showed up.
Protesters said resources wasted on war would be better spent making life better for the people, demanding that Berlin scale down its military budget, withdraw its troops from all foreign missions, and stop selling arms to other governments.
"Our point of view is let's come back to a politics of cooperation, dialogue and negotiations, we need these politics, not only in Syria and Ukraine, but all over the world in many, many countries," one protester named Reiner Braun told Ruptly.
"The German government is definitely going the wrong way. Sanctions are not helpful; confrontation are not helpful; German troops in Poland and Ukraine are not helpful, so we are calling for deep change of the German politics against Russia," he added.
The "Lay Down Your Arms" demonstration was organized by left-wing forces, which distanced themselves from right-wing groups for the latest event.
Left Party MP Sahra Wagenknecht, who was the key speaker at the protest, criticized the continued violence in Syria and the latest collapse of cooperation between Russia and the US, which has left the prospect of a peaceful resolution of the five-year-long conflict as distant as ever.
You can share this story on social media: