Police officers pelted by 'Molotov cocktail' in Paris suburb, 2 in serious condition (VIDEO)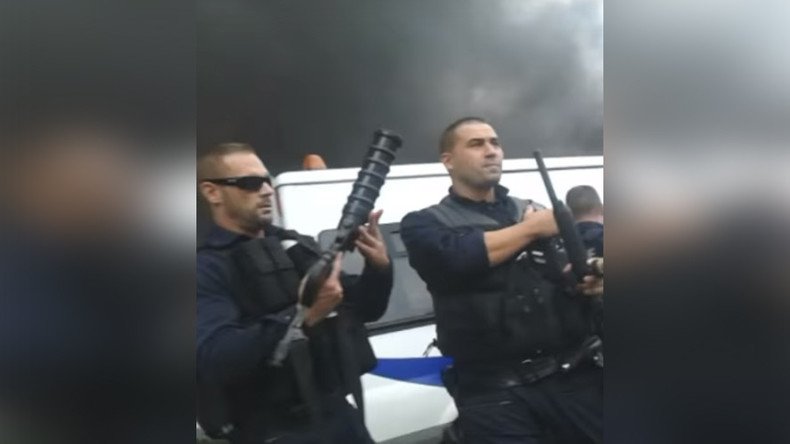 Four police officers have been hurt, two seriously, when their cars were set ablaze in the troubled Paris working class housing estate Grande Borne on Saturday.
"[A group of] fifteen people attacked the police cars at around 1500 hours," a representative of the police officers' union told BFM TV. "Stones were thrown, preventing the police from leaving their vehicles while they were targeted by Molotov cocktails."
"The burns were so severe that the two officers had to be treated onsite before being taken to a hospital. One of the officers had burns on over 30 percent of their hands. Other officers who arrived as reinforcements in a second car were also pelted with Molotov cocktails," added the spokesperson.
The officers who were initially targeted, a 28-year-old man and 39-year-old woman, were monitoring a CCTV camera recently installed on a crossroads known as the "Bakehouse," named after a local bakery, when they were set upon by a mob of about 15 people. The injured officers were taken to hospital, while the occupants of the second car sustained minor injuries.
Reinforcements in riot gear were quick to arrive on the scene. However, no arrests were made. An investigation is under way into attempted murder.
The incident prompted swift condemnation from politicians. French President Francois Hollande described the ambush as "unspeakable and intolerable" and vowed in a statement that "everything will be done to find the perpetrators of this attack and bring them to court." He also said that the injured officers had "the full solidarity of the Republic."
L'agression de policiers à Viry-Châtillon est inqualifiable et intolérable. Je les assure de l'entière solidarité de la République.

— François Hollande (@fhollande) October 8, 2016

Nicolas Dupont-Aignan of the Gaullist party France Arise blamed the state for being "soft on crime."
Policiers de Viry-Chatillon blessés. Il manque en Essonne 300 policiers pour garantir un minimum de sécurité! Valls impuissant !

— N. Dupont-Aignan (@dupontaignan) October 8, 2016

Marine Le Pen, leader of the right-wing National Front, called for "authority to be restored."
Soutien aux policiers blessés à #ViryChâtillon. Il faudra rétablir l'autorité sur chaque mètre carré du territoire national. MLP

— Marine Le Pen (@MLP_officiel) October 8, 2016

As noted by the newspaper Le Parisien, cameras in the area are a source of conflict between police and local drug-dealing gangs, who've ram-raided other camera installations on previous occasions.
The Grande Borne estate was where Amedy Coulibaly, one of the perpetrators of the January 2015 Paris attacks, grew up, as well as a trouble spot during the 2005 riots. Built in the 1960s as affordable working-class housing, it has now become one of the most notorious of Paris' banlieues, suburbs with high rates of crime and unemployment and a deep sense of alienation from French society.
'Endemic disaffection with authorities'
Douglas Weeks, a visiting research fellow at London Metropolitan University and an expert on radicalization, told RT that violence against the police is one of the consequences of an ever-widening gap between government and local communities, as well as the lack of a clear integration strategy.
"It's not that though government will just say, 'Here we are, and we want you come and be a part of us.' There has to be a mechanism to allow that happen, that people want to be able to do," he said, adding that the attack speaks of "further disassociation of the wider public with those in authority."
The migrants that come to France, the rest of Europe and North America, from a variety of different backgrounds, may already have an inherent mistrust of the police and the authorities, he said.
What is worse, radicalization in one sphere makes them self-isolated and easily susceptible to indoctrination.
"When you have this type of disaffection that is endemic in a community like this, that makes those individuals particularly prime for taking on other radical ideologies as a mechanism as survival in their own mind or as a way to fight back against those in power," Weeks said.
You can share this story on social media: