Russian chopper carrying aid comes under ISIS fire over Hama, Syria – military
Published time: 8 Oct, 2016 13:13
Edited time: 8 Oct, 2016 21:20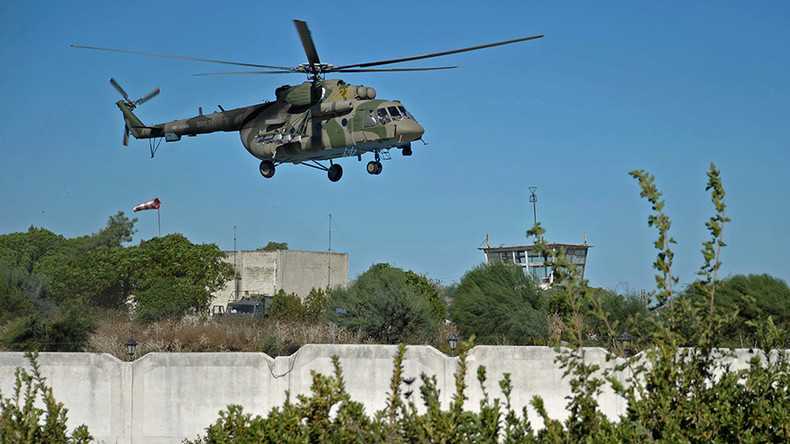 A Russian MI-8 helicopter carrying humanitarian aid came under fire in the Syrian province of Hama on Saturday, the Russian reconciliation center in Syria told reporters. None of the Russian officers on board were hurt.
The crew noticed a missile fired from a man-portable air defense system from Islamic State (IS, formerly ISIIS/ISIL) positions and managed to avoid it.
"None of the soldiers aboard the helicopter were hurt. Thanks to the flight altitude, well-timed detection of missile's launching and the crew's skillfulness, it was possible to dodge the missile strike," the center said in a statement on Saturday.
Islamic State militants came into possession of two such air defense systems on October 6 after they were delivered from Iraq, the center noted.
"The systems are supposed to provide air support to the armed groups in the suburbs of Hama that are trying to take control over the road to Aleppo and stop the government forces," it also added.
Meanwhile, German Foreign Minister Frank-Walter Steinmeier said the warring parties should guarantee the security of aid convoys before the ceasefire is renewed.
"The only way [to a ceasefire] is to have the warring parties guarantee that aid convoys and people won't be attacked and killed again," Steinmeier said at the Saint Petersburg Discussions forum on Saturday, as cited by the German Foreign Ministry.
The ceasefire brokered by Moscow and Washington on September 9 gradually fell apart, with Russia and the US blaming each other for failing to fulfill their commitments.
On Saturday, rival resolutions on settling the conflict in Syria sponsored by Russia and France were vetoed at an emergency meeting of the UN Security Council (UNSC).