Trojan tea-maker: FSB wiretaps top Russian investigator… with a samovar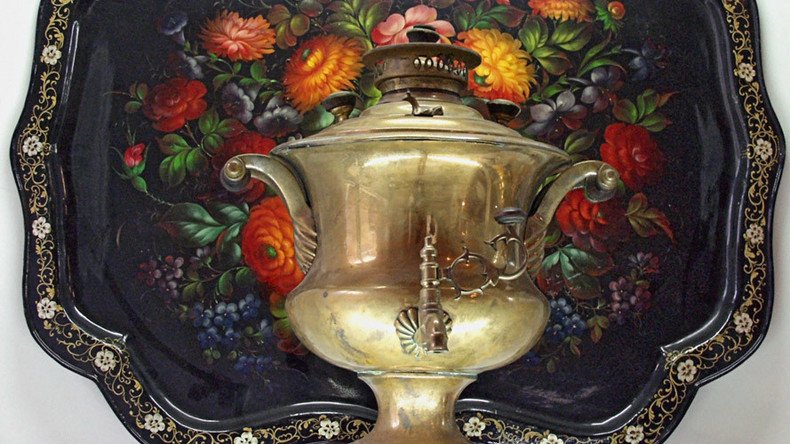 The Federal Security Service (FSB) has come up with a pretty unusual way to use a samovar – a traditional Russian kettle with a spigot – after one was given as a present to the head of an investigative committee suspected of large-scale bribery with a bug inside.
The head of internal affairs of Russia's Investigative Committee, Mikhail Maksimenko, has reportedly become aware that FSB is keeping an eye (or, rather, an ear) on all of his conversations at the office thanks to the shiny copper samovar he received as a present from the security service.
"I have bugs all over the place, God bless them. I want them to see that I'm alright and I don't take bribes," Maksimenko said, explaining his response to the news that his office was wiretapped, the Russian Kommersant newspaper quotes.

The data retrieved from the bug made it possible to charge three top officials of the investigative committee with bribery.

According to the taped allegations, money was received from mafia boss Zakhary Kalashov, known as Shakro Molodoy, who was detained in July and whose gang was involved in a much-publicized shootout near a restaurant in central Moscow in December 2015, which left two people dead and several more injured.
The fact that the bug was hidden in a samovar, an iconic piece of kit for making Russia tea, has spurred a fair amount of ridicule on social media.
Darwin award: Russian General arrested for corruption after FSB bugged him via *samovar* they gave him as birthday present. It had FSB logo.

— Christo Grozev (@christogrozev) October 7, 2016
On Twitter, someone quickly came up with the slogan, "Big Samovar is watching you," referring to the well-known dystopian novel by George Orwell, "1984."
Some drew parallels with the myth of the Trojan Horse, an epic story of Greek soldiers sneaking into the rival city of Troy also by means of a nice-looking present in the form of a giant horse.
Others worried it could now be a good idea to check out balalaikas and valenki, traditional Russian musical instrument and footwear, for bugs as well. A Twitter user joked that the Russian Foreign Ministry is now going to present a samovar to the new American president via the US embassy, citing an "unnamed source at the ministry."
The FSB ordered the arrests of Maksimenko, his deputy Aleksandr Lamonov and first deputy chief of Moscow's Investigative Committee Denis Nikandrov in July. All of them may face from between eight to 15 years in prison if found guilty.
You can share this story on social media: