Germany considering European sanctions against Russia over actions in Syria – report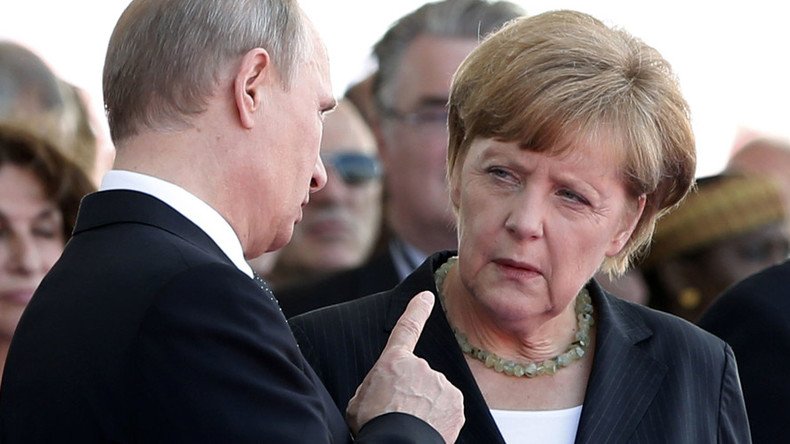 A push to slap more European sanctions on Russia is being considered in Berlin due to Moscow's actions in Syria, a person familiar with the deliberations told the Wall Street Journal.
According to the source, Chancellor Angela Merkel's government is looking for ways to push Moscow into changing course in Syria, where Russia is supporting the Syrian army in a siege of areas of Aleppo held by terrorists.
One measure Berlin is considering involves putting new European Union economic sanctions on Russia – a move that Merkel already persuaded the bloc to do in 2014, over Russia's alleged involvement in Ukraine.
The source, who spoke to the newspaper on Wednesday, said deliberations are in the early stages, and it remains unclear how widely new sanctions would be supported.
A spokesman for the German Foreign Ministry said earlier on Wednesday that, "at the moment, I know no one, neither in Berlin nor anywhere else, who has such proposals."
A spokesman for Merkel declined to comment, referring to the Foreign Ministry statement.
German and US officials have accused Russia of being behind the bombardment of hospitals and other civilian facilities in Aleppo, but Russian deputy ambassador Evgeny Zagaynov has warned against rushing to blame Russia and Syria for those attacks without any "verifiable data."
Washington announced on Monday that it was breaking off bilateral diplomacy with Russia on the Syrian war, claiming that Moscow had decided to pursue a "military course," while once again accusing it of targeting "critical infrastructure such as hospitals."
However, Russian Foreign Ministry spokeswoman Maria Zakharova countered on Monday, saying it was Washington that had "failed to fulfill the key condition of the agreement to ease humanitarian situation for the residents of Aleppo."
"And now, apparently, having failed to honor these agreements that they themselves worked out, [the US] is trying to shift the blame," she added. Russia has repeatedly accused the US of failing to distinguish between so-called 'moderate rebels' and members of terror groups in Syria.
Zakharova said on Tuesday that the Russia-US peace effort in Syria had broken down due to a lack unity on the issue in Washington.
The Americans "were changing their opinion and their point of view on what's going on in Syria, actually, every day," Zakharova said. "We realized very clearly that the US had no joint position. Different organizations, different structures in Washington were taking different positions on what's going on Syria. They had absolutely different views."
US Secretary of State John Kerry and Russian Foreign Minister Sergey Lavrov did, however, have a phone conversation to discuss the conflict on Wednesday.
"What we talked about the other day was bilateral engagement with regard to Syria," State Department spokesman Mark Toner told a briefing. "That remains suspended, but it certainly doesn't preclude the...secretary of state and Foreign Minister Lavrov from talking."
"It would be irresponsible for us, given what's happening in Aleppo, not to touch base with Foreign Minister Lavrov periodically," he added.
Discussions over the possibility of imposing a new series of sanctions against Russia will weigh on the conscience of the German government, Sergey Lavrov told a press conference following his talks with the French foreign minister.
"We've read that Germany is considering the idea of imposing new sanctions against Russia following the events in Syria, this is up to Germany. This is on the conscience of those who make assertions of what is going on in Syria," Lavrov said.
"I hope that, firstly, common sense will prevail and, secondly, the desire to blame Russia everywhere and for everything will go away," he added.
You can share this story on social media: