UN peacekeepers 'abandoned posts' as S. Sudan rebels raped aid workers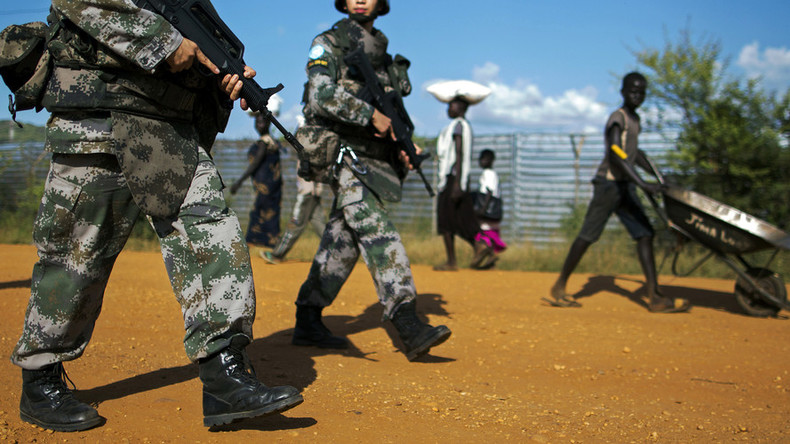 Some UN peacekeepers "abandoned their posts entirely," failing to "live up to the protection mandate" and care for civilians in South Sudan in July, a rights group says. It adds that peacekeepers refused to help as rebels raped at least five aid workers.
On July 11, up to 100 rebel soldiers attacked the Terrain compound in Juba, where they "proceeded to rape and gang rape at least five international aid workers, physically or sexually assault at least a dozen others, and execute a South Sudanese journalist—apparently because of his Nuer ethnicity," the report by Washington-based Center for Civilians in Conflict (Civic) said.
Although several departments within UNMISS received information about the attack shortly after it broke out, and a Quick Reaction Force (QRF) was ordered to respond, "no QRF ever tried to leave the UN House gates, however, with at least the Chinese and Ethiopian battalions refusing to go," the report said.
The group added that although UNMISS secured assistance from South Sudanese authorities to help the QRF navigate the Sudan People's Liberation Army positions on the road, "the contingents still were unwilling to try to intervene."
At one civilian protection site in Juba, Chinese peacekeepers "abandoned their posts entirely withdrawing into the core UN House base," the report revealed.
"With nowhere inside civilian protection site to shelter from gunfire and no protection from the peacekeepers, approximately 5,000 civilians fled over fences and barbed wire into the core UN House base. There, UNMISS forces struggled to manage the situation.
According to seven independent witness accounts, on the morning of July 12, UNMISS fired tear gas on the civilians with little or no warning."
While the performance of peacekeepers in protecting civilians inside the civilian protection sites varied, "UNMISS's ability to protect outside was nonexistent," the report pointed out.
After fighting started on July 8, the UN Mission was "almost wholly confined to its bases—rendering nonexistent its ability to offer protection to anyone outside. In addition, poor contingency planning as well as inadequate dissemination of and practical training on the Mission's rules of engagement prior to the crisis meant UNMISS was ill prepared to respond to threats against civilians."
"The UN peacekeeping mission faced a challenging environment during the July violence in Juba, but it underperformed in protecting civilians inside and outside its bases," Executive Director at Civic Federico Borello noted in a press release.
"To ensure that such problems are not repeated, it is critical that the UN be transparent about what went wrong and hold accountable any individuals or units that failed to live up to the protection mandate," he added.
Civic said it interviewed some 27 South Sudanese civilian women and 32 South Sudanese civilian men who were directly affected by the violence; 21 civilian and military officials from UNMISS; 22 representatives of the humanitarian community in South Sudan; four people who were at the Terrain compound attacked on July 11; as well as local civil society representatives, government officials, and diplomats in South Sudan.
The rights group noted that the failings in July didn't come as a surprise, however. The group previously investigated another incident in February, when peacekeepers from Ethiopia, India and Rwanda stood by as government soldiers attacked a civilian protection site in the northern town of Malakal, killing at least 30 civilians and injuring 100 others.
"The peacekeepers' response, from preparation through performance as the violence unfolded, was plagued by major problems," Civic said. The UN also later admitted to peacekeeper "inaction, abandonment of post and refusal to engage" during the attack.
You can share this story on social media: