Israeli fighter jet crashes outside base after striking Gaza, pilot killed – army statement
Published time: 6 Oct, 2016 07:50
Edited time: 6 Oct, 2016 07:52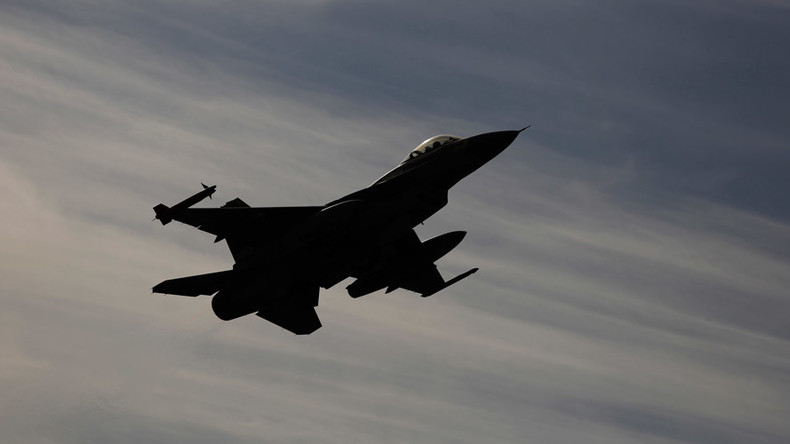 An Israeli Air Force pilot died on Wednesday as he ejected from his F-16 fighter jet upon returning from an airstrike mission in the Gaza Strip. The jet caught fire and crashed moments later outside Ramon Air Force base in southern Israel.
The pilot died while landing the jet on Wednesday evening, Anadolu news agency reported citing an army statement.
He was identified as 34-year-old Major Ohad Cohen Nov, who was only recently appointed squadron deputy commander. The pilot's navigator ejected successfully and sustained only minor injuries. He has been hospitalized.
The F-16 apparently caught fire on descent, forcing the crew to abandon the aircraft. The cause of the fire is still unknown. Israeli Air Force commander Major General Amir Eshel ordered an investigation into the incident.
The aircraft was returning from an airstrike mission in which Israeli warplanes shelled several positions in Gaza after a rocket fired from Gaza territory exploded in Israel's southern city of Sderot, the Israeli army said in a statement.
The plane was an F-16I two-seater jet fighter, also known as the "Storm," which was specifically made for Israel by US-based Lockheed Martin. It had been in service with the IAF for over 10 years. The incident became IAF's first fatality since 2010, when an F-16 crashed in southern Israel during a drill, killing both the pilot and navigator.
READ MORE: Israeli navy intercepts women's flotilla protesting Gaza blockade
On Wednesday, IAF jets allegedly targeted the Al-Qudisiya command post, which belongs to the Ezzeddin al-Qassam Brigades in the Gaza Strip's southern city of Khan Younis, Anadolu Agency reported, citing eyewitnesses, who also told the agency, on condition of anonymity, that the Israeli warplanes had shelled empty agricultural land east of the Gaza City.
No injuries were reported in Wednesday's airstrikes.
The Brigades are an armed wing of Hamas, the Palestinian resistance movement that has been governing the strip since a pact was signed between it and Palestinian President Mahmoud Abbas. Israel sees Hamas as a terrorist organization that aims for the ultimate destruction of the Israeli state.