Molotov cocktails & grenades fly at clashes between French police & Corsican nationalists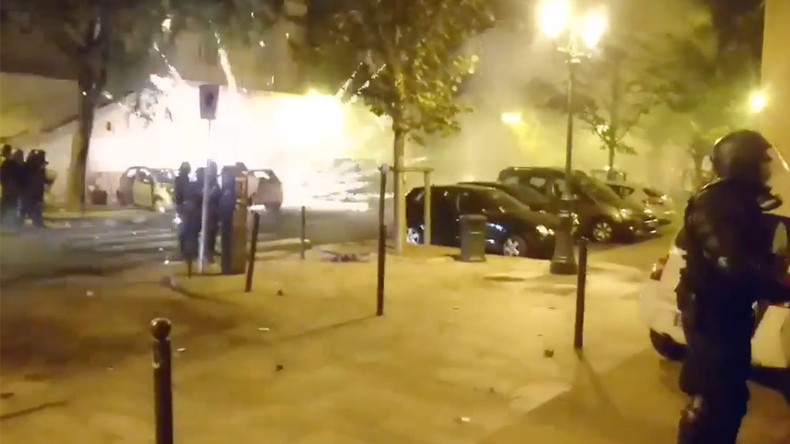 Dozens of masked nationalists took to the streets of Bastia, northern Corsica, throwing Molotov cocktails at police and setting garbage on fire to protest the trial of three fellow nationalists charged with attacking a sub-prefecture on the island.
Four officers were injured in the skirmishes with partially masked Corsican nationalists on Wednesday evening, RT France reports.
Some 20 people marched through the city rallying against the resumed trial against three activists of Corsican youth separatist movement Ghjuventù Indipendentista (Youth independence).
A car was reportedly set ablaze by protesters and partially burned down. A small group of rioters attempted to break through the police cordons to the central Place du Marché before it was dispersed by security forces.
The enraged nationalists have also drawn graffiti reading, "Liberta, Francia fora," [Liberty, outside France] on a Bank of France building. Shortly after the area was cordoned off by police in riot gear.
However, despite social media footage showing flash grenades and burning garbage containers lighting up the evening sky, no major incidents were reported and no arrests were made.
Earlier Wednesday, prosecution requested six to eight years behind bars for Nicolas Battini, Stéphane Tomasini and Jean-Baptiste Verdi, who are accused of perpetrating an attack on sub-prefecture of Corte, part of the Haute-Corse department and the fourth largest commune in Corsica. Battini, who faces eight years in jail, was the only one to appear behind bars at the trial, while Tomasini was tried in court, and the third suspect was still at large. The ages of the three men range from 22 to 24 years.
On April 1, 2012, the suspects allegedly planted a fire extinguisher filled with explosive elements in the car before driving it to the gate of the administrative building, which then caught fire. The device was later neutralized by demining team. No one was injured in the incident.