'EU responsible for chaos in Syria' - France's Marine Le Pen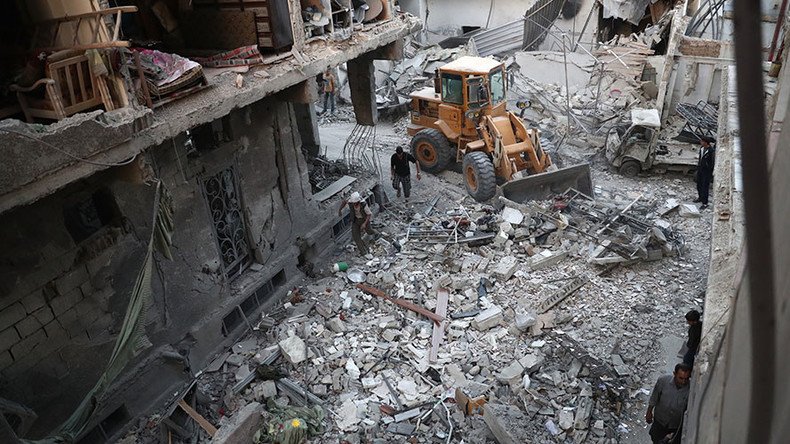 French National Front leader Marine Le Pen has accused the EU of being responsible for the ongoing chaos in Syria. She added that the EU has been too busy trying to overthrow Assad while Russia was actually fighting terrorists.
"You've done everything to bring down the government of Syria, throwing the country into a terrible civil war, while accusing Russia which is actually fighting Islamic State [IS, formerly ISIS/ISIL]," the right wing party leader and France's presidential candidate said, speaking at the European Parliament plenary session in Strasbourg on Wednesday.
"You cannot hide your responsibility […] for plunging this part of the world into an absolutely monstrous chaos," Le Pen added, noting that policies advocated by both the United States and the European Union had contributed to the state Syria is currently in, as well as neighboring Iraq.
The prominent eurosceptic politician also slammed the bloc's approach toward immigration as "irresponsible," stating that the current migrant policies only increase the number of economic migrants.
"Enfin, vous avez tout fait pour faire tomber le gouvernement de la #Syrie livrant ce pays à une terrible guerre civile." #PlenPE

— Marine Le Pen (@MLP_officiel) 5 октября 2016 г.
"No real measures are taken to curb the crisis. Your irresponsible policy, on the contrary, brings us more and more economic migrants," Le Pen said, adding that only 30 percent of the migrants that had arrived in the EU were from Syria.
READ MORE: US seeks to enforce global dominance by unleashing war on countries who oppose it – Assad
Le Pen, who intends to run for the French presidency, has repeatedly spoken out on the migrant crisis and security issues in Europe and France. France has been hit by a number of deadly terror attacks within the past two years, with a state of emergency declared after the November 2015 attacks in Paris and prolonged following an attack this July in Nice.
Some 2,000 teenagers have been radicalized by Islamic State propaganda in the country since the start of the year, according to a security source cited by Le Figaro newspaper. Many French citizens have left home to fight alongside terrorists in Syria and Iraq, while some 300 people have been arrested in France for links to terrorist activity since the beginning of the year.
Syria has been suffering from a destructive civil war, with the government fighting terrorists such as IS and Al-Nusra Front (now Fatah al-Sham) and a number of rebel groups. According to various reports, the total number of fatalities in the civil war in Syria that began back in 2011 ranges from 290,000 to 470,000 people.
Over 4 million people have fled the country and some 6.5 million people are considered internally displaced. An estimated 13.5 million people inside Syria are in need of urgent humanitarian assistance, including 6 million children, according to the latest report by UNICEF.

The EU, a member of the International Syria Support Group (ISSG), has sided with the US in imposing sanctions on the already devastated country and in calling on Assad's government to step down.
European Commission head Jean-Claude Juncker said in September that the EU should play a part in Syria peace negotiations and proposed developing a common European strategy for the war-torn Middle East country. However, no developments have so far been made in this regard, despite EU's High Representative for Foreign Affairs and Security Policy Federica Mogherini making a number of calls on the US and Russia to renew their "diplomatic consultations" regarding the war-torn state.
In an interview to RT, UK MEP David Coburn echoed Le Pen's words, saying that instead of "fighting" Russia, the West should seek closer ties to the country.
"The best thing we can be doing is working with Russia rather than fighting Russia. We have a mutual enemy," Coburn said, referring to Islamic State. He also noted that the EU should "get behind big powers" in the Syrian crisis since it doesn't have much influence on the issue.
"I do not think Madam Mogherini should be interfering in these matters, I don't think it helps much."
Coburn also warned of destabilizing Syria by overthrowing the current government of President Bashar Assad.
"We got rid of Saddam, we got rid of Gaddafi, neither of those went well. Now they are trying to get rid of Assad in Syria," he said. Coburn noted that despite everything, Assad "did run a secular regime and it was stable and it did protect minorities, including the Christian minorities."
You can share this story on social media: