Thousands of Polish women gather for 'black protest' against abortion ban (PHOTOS)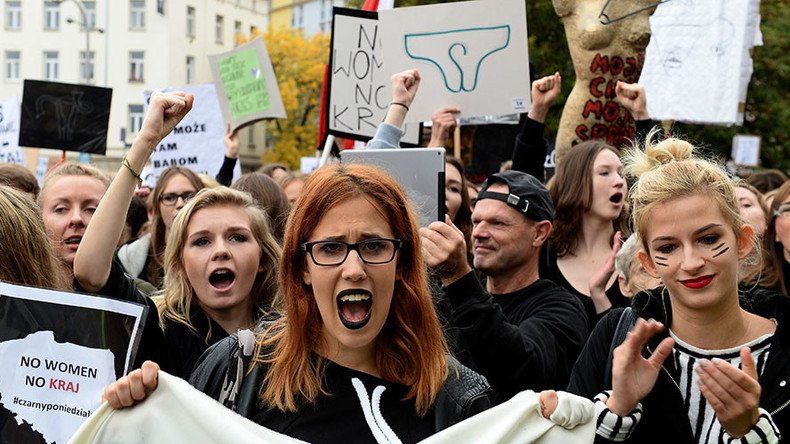 Crowds of protesters have taken to the streets of some 60 cities across Poland to rally against a controversial law that would introduce a complete ban on abortions in the country. Many were dressed in black.
Thousands of protesters from the largely Catholic nation gathered in front of the ruling Law and Justice party (PiS) headquarters in Warsaw on Monday. According to RIA Novosti, the number of demonstrators in the Polish capital reached 20,000.
"We want doctors, not missionaries!" and "Jaroslaw, get out!" chanted the demonstrators in Warsaw, referring to PiS leader Jaroslaw Kaczynski.
Banners at the demonstration read: "The woman is not an incubator" and "My body, my business."
"They are violating our civic rights, and I wanted to support all the women who may be hurt, who may be denied medical help and forced to have a disabled child… And I am doing it for my daughter," Gabriela, a market researcher, told Reuters.
She was one of many boycotting their jobs. The rallies reportedly prompted the closure of restaurants, government offices and even halted university classes.
Agnieszka Krysztopolska, who works at Starbucks, told AP that she was also skipping work.
"I have two children and it's not like I am some kind of hardline feminist but I do not agree with somebody depriving me of the right to my own health or that of my children. I think this bill is just dangerous," she said.
28-year-old Magdalena Gwozdz who marched next to her added: "This should be a woman's choice and abortion should be available in case of rape or a damaged fetus… This is Europe and we are in the European Union."
Many men also joined the women in Warsaw, Gdansk, Wroclaw and elsewhere across the country. Polish TVN24 channel reported that protests took place even in the town of Czestochowa which is considered a symbol of the country's Catholicism.
"We want to have a choice," protesters in Krakow shouted, as cited by TVN24.
Rallies against Poland's abortion ban were held outside the country, as well. Some 200 people gathered in Brussels, Belgium, to support Polish women. "Polish women on strike," "No to the abortion ban," said the banners at the demo.
Those standing against the ban on social media have come up with the #CzarnyProtest hashtag, which stands for "black protest." The hashtag has been used over 70,000 times on Instagram. Hundreds of women posted the slogan "My body, my choice."
Other symbols used by activists opposed to the abortion ban include a woman's uterus against a black background.
According to the proposed law, those who are found to have terminated their pregnancies are liable to be sent to jail. Those drafting the bill say they want to reduce the number of abortions in Poland.
Critics of the ban said planned legislation that would make abortion illegal even for women who are victims of incest or rape or whose lives are endangered by pregnancy would be "barbaric."
In the meantime, Polish Foreign Minister Witold Waszczykowski slammed the way protesters were expressing their opinion.
"We expect serious debate on questions of life, death and birth. We do not expect happenings, dressing in costumes and creating artificial problems," he said, as cited by AP.
Protests have been taking place across Poland since September when the country announced that it was moving towards the final stage of debates on upgrading the abortion ban law in the parliament.
There have also been rallies in support of the ban. Pro-life activists backed by the Catholic Church are urging the government to carry out an almost-total crackdown on abortions by allowing the operation only when it is necessary to save the woman's life.
The 1993 law currently in force prohibits all terminations except in cases when a pregnancy is the result of rape or incest, puts a woman's life at risk or if a fetus is severely damaged or ill.
You can share this story on social media: