Hungarian PM pledges constitution changes despite invalid refugee quota referendum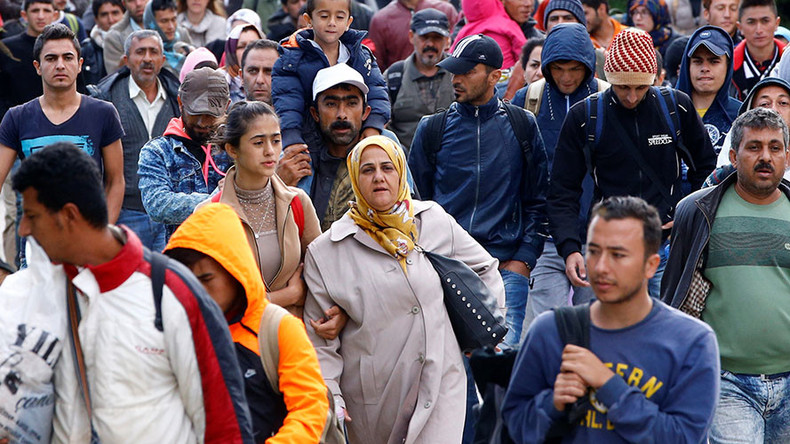 Despite low turnout at the referendum on mandatory asylum seeker quotas, Hungarian Prime Minister Viktor Orban promised to amend the constitution to make sure the EU will not be able to settle migrants in the country.
98.3 percent of the voters said 'no' to the EU's quotas on Sunday, but the turnout of less than the required 50 percent made the plebiscite invalid.
Orban appeared before the parliament on Monday, insisting that the referendum has still achieved its goal.
He said that 3.28 million Hungarians rejected the EU's migration policies and "this support obliges me to act on it."
The ruling coalition of "Fidesz and the Christian Democratic Party believe the appropriate, honest and necessary step is to give legal weight to the will of the people," the prime minister is cited as saying by Reuters.
"Therefore, I am initiating an amendment to the constitution," Orban said, but provided no further details.
The Jobik party, which boycotted the Sunday vote along with other opposition groups, slammed the PM over the failed referendum, saying that it offered a "trump card" to the EU.
"You will not be taken seriously by Brussels bureaucrats. Brussels will ruthlessly exploit your irresponsibility and mistake," Jobik leader Gabor Vona told Orban at the National Assembly.
The Hungarian PM has been a stubborn opponent of German Chancellor Angela Merkel, who insists that EU states are obliged to share the burden of taking in refugees that have been arriving in Europe during the ongoing migrant crisis.
Orban said that Muslim migrants from the Middle East and North Africa will pose a security risk for the mainly Christian Hungary.
According to Orban, accepting or rejecting migrants is a matter of national sovereignty for the country.
READ MORE: Majority of Paris & Brussels attackers infiltrated EU posing as refugees – Hungarian intelligence
Meanwhile, the Hungarian referendum sent an emboldening signal to neighboring Serbia, which spoke of further tightening border security to keep the migrants out.
Serbian President Tomislav Nikolic said the country, which is seeking to become an EU member, must take action despite the risk of enraging Brussels.
"If Serbia becomes a funnel from which water cannot drain because others further along have shut their own borders, Serbia must shut down its own (borders) regardless of its convictions," Nikolic told Tanjug agency.
"If Hungary did not anger the EU, Serbia will surely not," he added.
Hundreds of thousands of refugees have passed through Serbia in the last year and a half on their way to Germany and other northern European countries. But over 3,000 people remained trapped on Serbian territory after Hungary fully sealed its border.
Also on Monday, Austrian Foreign Minister Sebastian Kurz has called the plan on refugee quotas imposed by the EU "totally unrealistic."
You can share this story on social media: