WikiLeaks cancels Assange's live balcony appearance over 'security concerns'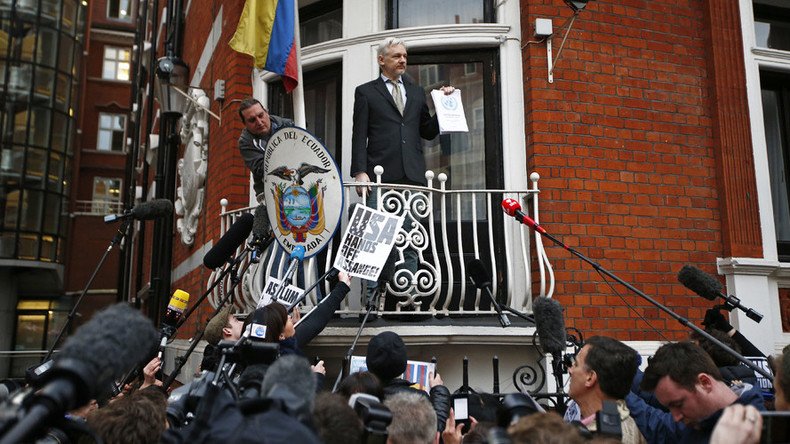 Julian Assange will not be delivering his eagerly anticipated WikiLeaks 10th anniversary address from the Ecuadorian embassy's balcony in London due to security concerns. However, he will still appear at an event in Berlin via a video link.
For almost a month now the public has held its breath waiting for the so-called "October surprise" leak of classified data that is rumored to deal a devastating blow to Democratic nominee Hillary Clinton's campaign.
Last week MSNBC's Jesse Rodriguez reported that the much-anticipated leak announcement would take place this coming Tuesday from the Ecuadorian embassy's balcony. The WikiLeaks founder has been holed up in the building for years, fearing extradition and American persecution.
Due to security concerns at the Ecuadorian Embassy, Julian Assange's balcony announcement on Tues has been cancelled, per @wikileaks

— Jesse Rodriguez (@JesseRodriguez) September 30, 2016
Yet during the weekend WikiLeaks announced that due to "recent security concerns" at the Ecuadorean Embassy, Assange's balcony appearance had been canceled. However, Assange will go ahead and deliver an address via video link at a Berlin press conference later on Tuesday.
According to @wikileaks, Julian Assange will appear via video link at Berlin press conference on Tuesday AM

— Jesse Rodriguez (@JesseRodriguez) October 2, 2016
In an appearance on Fox News last month, Assange reiterated that WikiLeaks would soon publish more damaging documents which could ruin Clinton's chances of becoming the next US president. The whistleblower then suggested that WikiLeaks may soon release "teasers," and produce an "October surprise."
Over the summer, WikiLeaks released some 20,000 emails from the Democratic National Committee (DNC) that exposed the political rigging of the Democratic primary by the Clinton camp against her rival Bernie Sanders. The revelation resulted in the resignation of a number of Democrats including DNC chairwoman Debbie Wasserman Schultz.
The release of the DNC email was immediately pinned on Russia by the Clinton campaign and the mass media. Russian officials have repeatedly denied involvement in the inter-party struggle, calling the idea "so absurd it borders on total stupidity," in the words of Kremlin spokesman Dmitry Peskov.
Russian President Vladimir Putin also claimed the allegations were false while suggesting that blaming Russia is an electioneering trick which steers US public attention away from the actual facts exposed by the leaked materials.
In an interview with Der Spiegel, when asked if WikiLeaks is damaging Clinton and bolstering Trump's chances of becoming a winner, Assange replied:
"We're not going to start censoring our publications because there is a US election. Our role is to publish. Clinton has been in government so we have much more to publish on Clinton," Assange explained.
You can share this story on social media: