3 police cars set on fire in Dresden, as violence escalates ahead of Germany Unity Day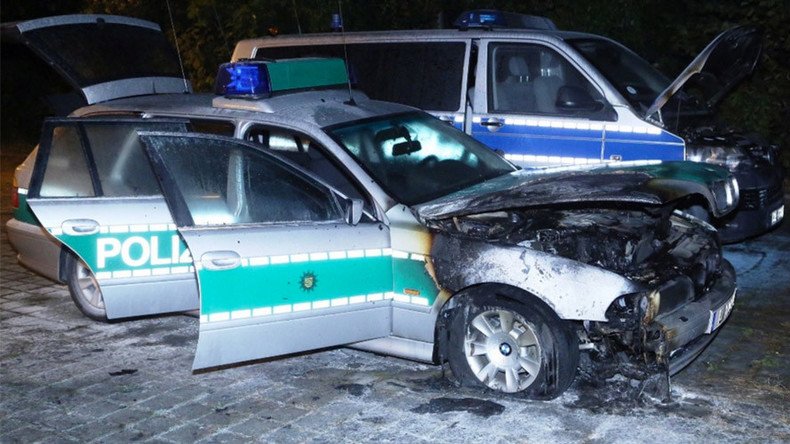 Three police cars were set ablaze by unknown arsonists in the German city of Dresden in the run-up to German Unity Day, marking 26 years since the reunification of Germany.
No one was hurt in the arson attacks, Reuters reports. Police believe they were carried out in retaliation to heightened security measures and police presence. The situation grew tense last week, following two IED blasts – one near a mosque, the other at an international conference center.
Around 2,600 police officers have now been dispatched to ensure security around the town.
Dresden is a particularly sensitive front, as the city is the birthplace of the right-wing PEGIDA movement, which has been focusing its efforts on grassroots activities and publicly protesting against the influx of Muslim refugees from the war-torn Middle East.
In 2015, refugee numbers spiked to nearly one million in Germany, creating an equal and opposite reaction from PEGIDA, who could easily rally 20,000 supporters to one of its events. With rising migrant numbers, assaults and crime also increased.
On Saturday, German Chancellor Angela Merkel said in an interview cited by Reuters that the country was facing a "shamefully high number" of violent anti-immigrant crime in eastern Germany, where she is also from.
According to journalist and expert on international affairs Michael Opperskalski, xenophobia, anti-foreigner sentiment and "open neo-Nazi propaganda" have been on the rise in Germany.
"[People across the country] are saying that some open neo-Nazi forces and open racist forces are thinking, discussing and organizing so-called militant action," he told RT last week.
Opperskalski fears that a new form of far-right terrorism is emerging in Germany, rivaling even the threat of Islamic terrorism. Worst of all, he said, the far-right groups are increasingly supported by the local citizenry.
These sentiments have found their match with the political party Alternative for Germany (AfD), support for which is now 16 percent in Germany. The right-wing party was born 2013, and is predicted to become Germany's third largest party, surpassing the Left and the Greens.
You can share this story on social media: