Iran & Italy hold joint drills in strategic Strait of Hormuz, despite recent US military incidents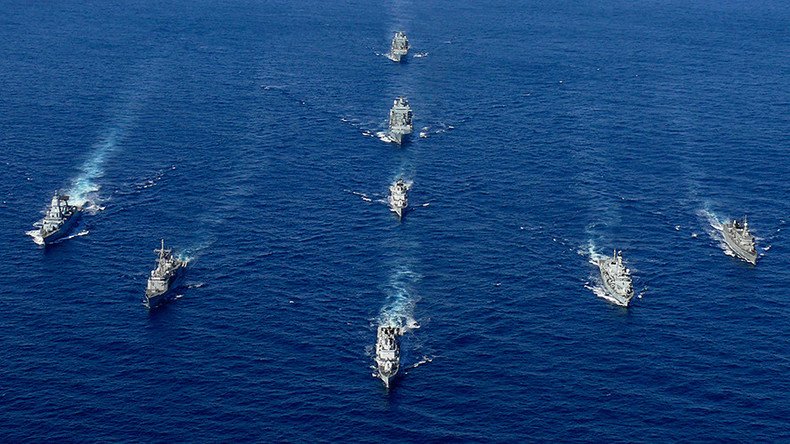 An Italian frigate has participated in joint drills with Iran in the Strait of Hormuz, an Iranian commander has said. The maneuvers are unprecedented and come despite several controversial incidents involving US warships in the same area.
The drills took place in the strategic strait, located between the Persian Gulf and the Gulf of Oman.
The Italian frigate Euro sailed to the strait for maneuvers with the Iranian ships the Alvand and Alborz, following a port call in Bandar Abbas on Saturday, Iranian Admiral Hossein Azad told the state IRNA news agency.
An Iranian and an Italian helicopter participated as well, he added, also noting that the drills are aimed at boosting military power and also an exchange of knowledge between the two countries' navies.
On Sunday, Iranian Navy Commander Rear-Admiral Habibollah Sayyari said that destroyers from Iran might dock at Italian ports in the near future, as quoted by Mehr news agency.
The Italian ambassador to Iran, Mauro Conciatori, said the port call was "a positive sign in mutual relations that can increase the bond between the two countries," as cited by Iran's ISNA news agency.
Earlier in September, a five-strong military delegation from the Italian Army, led by Rear Admiral Roberto Chia Marcella, traveled to Iran and visited different units of the Iranian Armed Forces, Tasnim news agency said in a press release.
Before the EU imposed sanctions on Iran – following the US – Italy was Iran's biggest trading partner, and it now seems determined to restore the ties. In April, Italian premier Matteo Renzi became the highest-ranking European leader to visit Iran since the breakthrough nuclear agreement was made over a year ago.
The latest Italian-Iranian drills come despite several controversial incidents in the area involving the US Navy over the past few months.
On September 10, two US maritime patrol planes were flying separate missions in international airspace when Iranian air defense batteries warned they would fire unless the US planes changed course, according to a Pentagon statement.
In the summer, at least five similar incidents were recorded, with the US accusing Iran of wrongful behavior in the Gulf and Tehran denying it had been at fault.
In particular, the USS Nitze, a guided missile destroyer, was allegedly intercepted by four Iranian military boats near the Strait of Hormuz at the end of August, according to US defense officials. They said the Iranians ignored attempts to communicate and acted in an "unprofessional" manner.
In mid-July, five Iranian military vessels reportedly maneuvered extremely close to a US warship carrying a top American general, US officials said.
You can share this story on social media: