MH17 int'l probe's only sources are Ukrainian intel & internet - Russian MoD
Published time: 28 Sep, 2016 15:36
Edited time: 29 Sep, 2016 03:54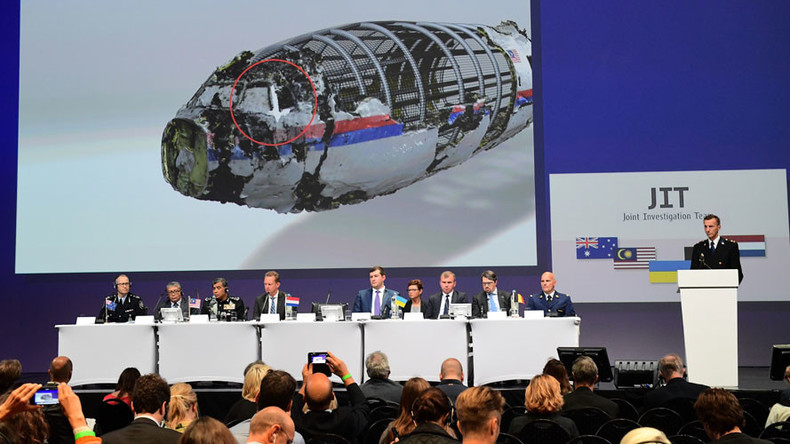 The international investigators relied only on data provided by the Ukrainian military and from the internet, a Russian military spokesperson said Wednesday. He added that no Russian missile systems have ever crossed into Ukraine.
"No Russian missile systems including 'BUK' have ever crossed the Russian-Ukrainian border," spokesman for the Russian Defense Ministry Major-General Igor Konashenkov said.
The official reacted to the findings of the Dutch-led Joint Investigative Team (JIT), which issued its report earlier on Wednesday. The JIT claimed that the Malaysian Boeing was downed by a BUK surface-to-air missile launched from a rebel-held area in eastern Ukraine and that the respective missile system had come from Russia.
That theory was countered in today's presentation by the Russian BUK producer Almaz-Antey, who stressed that three of its experiments showed the most likely launch site was in the area held by the Ukrainian Army.
Konashenkov also cast doubts over the sources used by the JIT.
"All the data that has been presented today at the briefing of the investigative group comes from two main sources: the internet and Ukrainian intelligence services. Therefore, the objectivity of the information and, consequently, the basis for their conclusions cannot but raise doubts."
READ MORE: Int'l investigators allowed Ukraine to fabricate MH17 evidence – Russia
Konashenkov stressed that the claims made by the JIT on Wednesday require rock-solid proof.
"The serious findings that have been made public require serious argumentation and – what's more important – facts."
The Defense Ministry spokesperson also demanded from the international investigators the release of the radar data from the Ukrainian side.
"On Monday, we revealed to the global public the Russian radar data on the situation in the air on the day of the disaster on July 17, 2014. This data cannot be refuted by anything – only confirmed by the similar data of the air situation from the Ukrainian radars," Konashenkov said.
Konashenkov signaled that Moscow is willing to contribute to the inquiry.
"We are very interested in conducting an objective investigation to identify the real perpetrators of the incident on July 17, 2014.
"And we will continue to provide all the necessary assistance," he said.
WATCH MORE:
Kremlin spokesperson Dmitry Peskov warned that it is too early to jump to any conclusions as the full investigation into the crash is set to be concluded only in 2018. But based on what has emerged from the JIT investigation, Peskov noted in an interview with the BBC that already "a lot of unclear things" and a "number of contradictions" exist in the findings.
So when asked by BBC's HARDtalk's Stephen Sackur if Russia accepts the conclusions about the Buk, the spokesperson replied that in fact "there was nothing to accept or deny," as he understood the findings are preliminary.
"We cannot operate only [on] statements without any proof, without any details," Peskov said. "We know the devil is inside those details and unfortunately we are still missing lots of the details."