Thai government blocks launch of report on 'culture of torture' – Amnesty
Published time: 28 Sep, 2016 14:35
Edited time: 28 Sep, 2016 14:35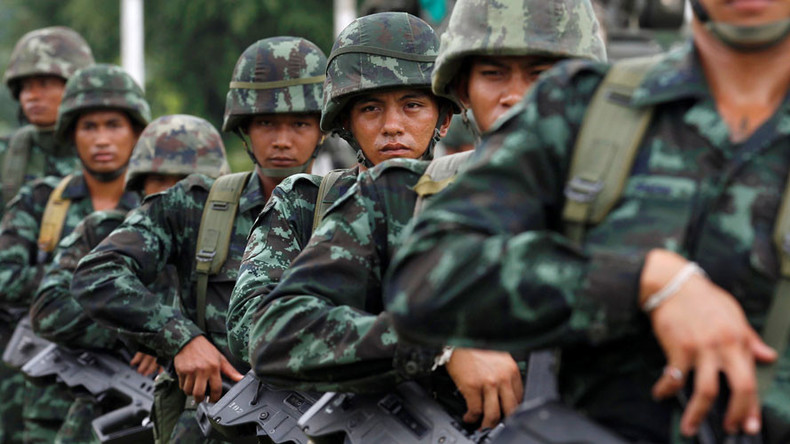 Amnesty International says Thai authorities have shut down the public launch of the NGO's report which details a "culture of torture" at the hands of police and military, in what is seen as the latest move to silence rights groups in the country.
The NGO had flown members of its UK team to Bangkok for the report's launch on Wednesday. However, a group of "men wearing jackets with tags identifying them as labour officials" arrived at the event, and an hour after it was due to start, it was shut down.
Nadthasiri Bergman, a Thai legal adviser to Amnesty, said the event's speakers were told they had the wrong visas.
"[The authorities] insist that they are not closing the event down, but they qualify that if representatives of Amnesty International speak there will be consequences and they will be subject to arrest under Thai labour law," he told the Guardian.
Amnesty International says it was surprised that this action was taken, as it had met with authorities and provided them with the report weeks ago.
Despite the threat, Yuval Gimbal, a researcher for Amnesty, who has a business visa for Thailand which is valid until December 2016, stood outside the event and told reporters: "We know that the Thai government does not accept criticism very well.
"In the 21st century, you can't really shut people up. You can try. I think what they did probably gave us more voice than if they had let us exercise peacefully our human right to freedom of expression."
The report, titled "Make him speak by tomorrow: Torture and other ill-treatment in Thailand," describes 74 alleged cases of torture and other ill-treatment by the military and police, including beating, strangling by rope, and waterboarding.
The report accuses the ruling junta of allowing a culture of torture to flourish across the country since the coup in 2014.
One man in his 20s, identified as "Fisal," told Amnesty he was arrested in southern Thailand where he was held and tortured by soldiers for a week before being released without charge. During that time, he says he was subject to physical abuse and a mock execution.
"They handcuffed my hands behind my back with steel cuffs. They used a scarf to choke me from behind, asking me did you [commit the crime]? There were six of them. Whenever I ran out of breath they'd stop, then do it again."
He added: "I felt I would die at any moment. They used a plastic bag that they found and put it over my head and tightened it from behind with a scarf. They also slapped and kicked me, and beat me with the butts of their guns on my back and chest.
"This lasted about half an hour. Then I passed out. They poured water on me to wake me up."
The regime has been criticized for curbing free speech, with police and soldiers dispatched to block numerous events covering human rights abuses or featuring political debates.
Political rallies and protests are also banned, and people have been detained for criticizing the regime.
The military, which took over following the coup, has denied any allegations of torture and has always maintained that it stepped in only to prevent violence after protesters targeted the government.
General Sansern Kaewkamnerd, spokesman in the Prime Minister's Office, told Reuters: "Our investigations into such allegations have shown no indication of torture, I have seen no indication of torture and Thai people have seen no indication of torture."
Thailand is preparing a draft law that would criminalize torture and enforced disappearance.