389 tourists missing after Indonesian volcano erupts (PHOTOS, VIDEOS)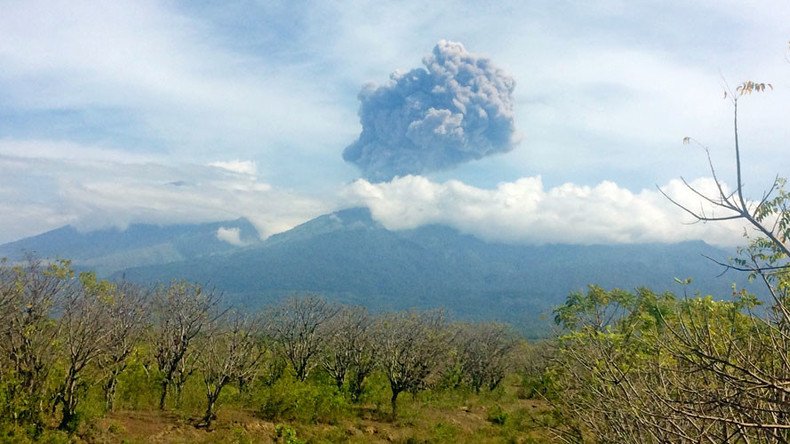 Almost 400 tourists are missing after a volcano erupted in Indonesia, spewing a massive column of ash into the atmosphere. More than 1,000 vacationers have been evacuated from the area, according to the country's disaster agency.
Around 389 tourists are missing after the 3.7-km (12,224-foot)-high Mount Barujari volcano erupted on Tuesday afternoon, spewing an ash column 2km (6,560 feet) into the air. The crater is also known as the 'Child of Rinjani,' as it is located in the caldera of the better-known Mt. Rinjani.
Disaster Mitigation Agency spokesman Sutopo Purwo Nugroho said the tourists are mostly foreigners, and that the agency hopes to locate them to "find out their condition and to evacuate them immediately," the New Zealand Herald reported.
Nugroho said the foreign and local tourists had been registered since Sunday to climb the mountain, leaving from Sembalun monitoring post, located about 11 kilometers (7 miles) from the crater. Officials believe they are still on the trails, as it takes around three days to complete a trek around the mountain.
About 120 tourists, mainly foreigners, have already been located and are heading down the mountain, according to Heronimus Guru, deputy operations chief at Indonesia's Search and Rescue Agency, as cited by AP.
Nugroho tweeted a photo of some of the tourists who have already descended safely down the mountain.
There have been no reports of injuries from the eruption.
The incident interrupted flights for several hours at Ngurah Rai International Airport in Bali, and Selaparang Airport in Mataram.
Nearby farms and trees were coated in a thin layer of ash, but Nugroho stressed that nearby towns and villages were not in any danger.
Rinjani is one of about 130 active volcanoes in Indonesia. The area is prone to eruptions and earthquakes because of its location in the Pacific 'Ring of Fire.'
You can share this story on social media: