'Scattering dust': Right-wing French politician under fire over Calais refugee comments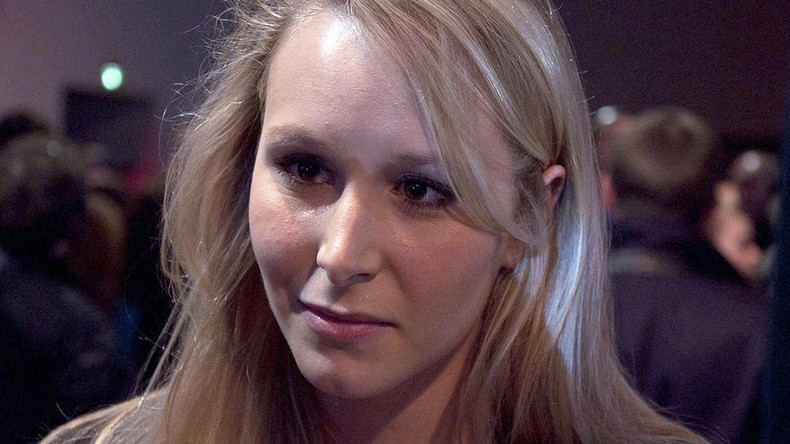 French MP Marion Maréchal-Le Pen, of the Front National (FN), has compared the bulldozing of the Calais 'Jungle' camp to a "scattering of dust," as thousands of refugees are set to be redistributed across the country's welcome centers.
Maréchal-Le Pen, granddaughter of infamous French politician Jean-Marie Le Pen, was interviewed on France's BFMTV news channel Tuesday morning about the dismantling of the Calais camp. Her words caused an immediate reaction from her host, veteran broadcaster Jean-Jacques Bourdin, who told Maréchal-Le Pen she could not simply laugh it off.
"The problem is, if you will, that we will scatter the dust," the FN politician said about the presidential decree to end the Jungle.
When confronted with her host's opposition to the term, Maréchal-Le Pen explained it was merely a "manner of speaking."
"Don't you know the expression 'to sweep the dust under the carpet'?" she added.
But Bourdin was unimpressed, replying: "It's not a manner of speaking, I'm sorry. You want to sweep migrants under the carpet? Because that's what you think."
As the politician brushed off the confrontation, Bourdin added: "Don't laugh about it. Men, women and children, they are not dust."
This was not Maréchal-Le Pen's first faux pas when talking about refugees. Earlier this month the parliamentarian described the 12,000 migrants about to be transferred from Calais to other locations across France as "that."
"We will put that in the French countryside, when we know the French countryside is already stricken," she told radio station France Info.
On Tuesday, Maréchal-Le Pen continued her anti-immigration speech, suggesting the "right to asylum is misguided" and that welcoming criteria must be "severely restricted."
"It's not the collective right of a war-stricken country's population to settle among us," she concluded.
She also shunned a possible joint platform between the FN and former President Nicolas Sarkozy ahead of the coming presidential elections. Common values might show up in "words, but not in actions," she said.
The latest polls have given FN head Marine Le Pen an up to 29 percent lead in the spring 2017 elections.
International groups, including the United Nation's children's program UNICEF, have warned that the dismantling of the Calais settlement could have devastating consequences on the camp's residents, of whom nearly 1,200 are minors.