Wealthy Gulf states may arm Syrian rebels to 'get the Russians to back off' - US officials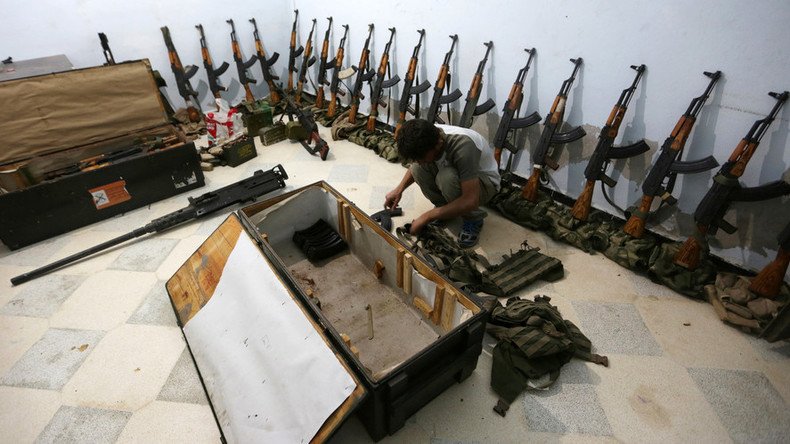 With the Syria ceasefire in tatters, there is a growing possibility that wealthy Gulf states might arm Syrian rebels, looking to shield themselves from Syrian and Russian warplanes, with shoulder-fired anti-aircraft missiles, according to a report.
One US official, speaking on condition of anonymity, told Reuters that Washington has kept high numbers of man-portable air defense systems (MANPADS), considered to be a threat to low-flying aircraft, out of Syria by uniting Western and Arab allies behind sending training and infantry weapons to moderate opposition groups while the US conducted talks with Russia.
Fed up with dancing to Washington's tune, Gulf allies or Turkey may sooner or later silently agree to wealthy individuals supplying MANPADS to opposition groups in Syria, another US official said.
"The Saudis have always thought that the way to get the Russians to back off is what worked in Afghanistan 30 years ago – negating their air power by giving MANPADS to the Mujahideen," an unnamed US official told Reuters.
"So far, we've been able to convince them that the risks of that are much higher today because we're not dealing with a Soviet Union in retreat, but a Russian leader who's bent on rebuilding Russian power and less likely to flinch," the official added, referring to Russian President Vladimir Putin.
Asked if Washington planned to do "anything other than pursue a diplomatic solution" to halt the violence in Syria, State Department spokesman Mark Toner said anyone pouring more weapons into the conflict will only add more fuel to the fire.
"I think that those who may be deluded into thinking there's a military solution also have to realize, and we've alluded to this before, that there are those – and not the United States – but there are those who back various groups and opposition groups within Syria who also may seek to arm them. And again, what you have as a result is just an escalation in what is already horrific fighting. As I said, things could go from bad to much worse," Toner said.
Another administration official, who spoke on condition of anonymity to Reuters, noted, however: "The opposition has a right to defend itself and they will not be left defenseless in the face of this indiscriminate bombardment."
The official stated that some other US "allies and partners" have been also involved in the US-Russia talks on the conflict in Syria.
"We don't believe they will take lightly to the kind of outrages we've seen in the last 72 hours," the administration official said, noting that he would not comment on "the specific capability that might be brought into the fight."
On Monday, the German newspaper Kölner Stadt-Anzeiger published an interview with an Al-Nusra commander in Syria, identified as "Abu Al-Ezz," who said that US allies were providing Al-Nusra with tanks and artillery.
"The Americans are on our side," Al-Ezz reportedly said, adding that Al-Nusra has allegedly been receiving funding from Saudi Arabia, Qatar and Kuwait, and has obtained tanks and artillery from Libya via Turkey. The group especially appreciated the US-supplied TOW anti-tank missiles, he alleged.
While admitting that its allies in the region may be arming Al-Nusra militants, the US government has categorically denied that it is providing any aid to them.
"That's complete poppycock. Whatever he's saying, no.

"We would never provide Nusra with any kind of assistance at all," State Department spokesman Toner told reporters on Monday.
Asked why the US has been unable to persuade the "moderate opposition" in Syria to separate itself from Al-Nusra, Toner replied that it was the rebels' responsibility, and that they would need a seven-day ceasefire to do so.
Tensions escalated after US-led coalition jets bombed Syrian government forces' positions near the eastern city of Deir ez-Zor, killing 62 troops on September 17. The incident dealt a serious blow to the Syrian ceasefire deal, which Moscow and Washington agreed to earlier this month, with the Syrian Army General Command saying the airstrike "paved the way" for Islamic State (IS, formerly ISIS/ISIL) militants.
The bombing was stopped only after the Russian military contacted the US side several times, saying that they were attacking the wrong targets.
Washington acknowledged the airstrike against the Syrian troops and even apologized for the mistake.
The speaker of the People's Council of Syria said on Monday that Damascus has a recording of conversations between the American military and Islamic State terrorists ahead of the US-led coalition airstrike that hit Syrian troops near Deir ez-Zor.

"The Syrian Army intercepted the communications between the Americans and Daesh [Arabic pejorative for Islamic State] ahead of the attack on Deir ez-Zor," Hadiya Khalaf Abbas said, as cited by Sputnik Arabic.
During his speech at the UN General Assembly over the weekend, Syrian Foreign Minister Walid Muallem also stated that the bombing of Syrian troops by the US-led coalition was a deliberate attack, not a mistake as Washington claims.
On September 19, a humanitarian convoy consisting of 31 trucks was attacked while heading to Aleppo. According to the Red Cross, 20 civilians and one aid worker died as a result. Initial reports by the organization claimed the convoy had been targeted by an airstrike. The US State Department was quick to blame Damascus and Moscow for the attack which led the UN to suspend aid deliveries to Syria. The day after the attack, the UN backtracked on its earlier claims that the convoy was hit by military planes.
The Russian Defense Ministry stated that Russian and Syrian warplanes did not launch airstrikes on the aid convoy that was attacked en route to Aleppo. The ministry added that only militants who control the area had information regarding the location of the convoy.
You can share this story on social media: