Russian military contacted US twice to stop airstrikes against Syrian govt troops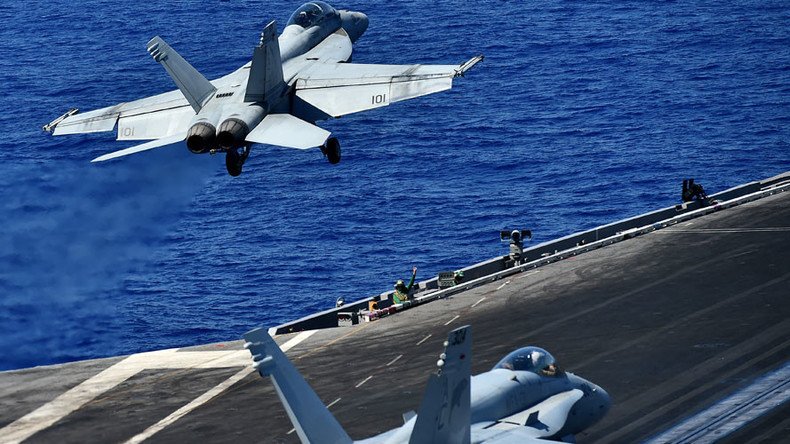 The Russian military tried to contact its US counterparts twice to warn them they were launching airstrikes against Syrian government forces before they were eventually halted, a senior US spokesman has revealed.
Col. John J. Thomas, a spokesman for US Central Command, told reporters at the Pentagon that about half an hour into the airstrikes, which were being undertaken by US-led coalition warplanes on September 17, the coalition air operations center (CAOC) received a call from a Russian officer.
The officer asked to speak to the designated contact, but that person was away from the phone. The Russians called back and the representative took the phone call. In less than 5 minutes, "the call to knock it off was put in place and the attacks ceased," according to Thomas.
However, the damage had been done, as 62 Syrian government soldiers had been killed by the airstrikes near Deir ez-Zor, while a further 100 received injuries.
The CAOC said that it had told the Russian military about its plans to launch airstrikes at that location, as it believed it would be targeting Islamic State (IS, formerly ISIS/ISIL) terrorists.
"We never had struck regime targets in this conflict, we didn't intend to at the time and we won't in the future. So when we heard that we may be doing that it was our obligation to call it off immediately and that's what they did," Thomas said in the briefing.
The Russian Defense Ministry said that the aircraft which carried out the bombings had entered Syrian airspace from the territory of Iraq.
Four strikes against Syrian positions were performed by two F-16 jet fighters and two A-10 support aircraft, it added.
"If the airstrike was caused by the wrong coordinates of targets, then it's a direct consequence of the stubborn unwillingness of the American side to coordinate with Russia in its actions against terrorist groups in Syria," Russia's Defense Ministry spokesman, Major-General Igor Konashenkov, said.
RT spoke to former UK MI5 intelligence officer Annie Machon, who expressed doubt as to whether the US airstrike was unintentional.
"I find it slightly unbelievable that the Americans could hit this target thinking this was ISIS when in fact ISIS is laying siege to the city. And the Syrian forces for years now have been known to be holed up in that city. So it seems just strange that the Americans are just saying it was a bit of a mistake," Machon told RT.
You can share this story on social media: