Russia presented all evidence on aid convoy attack, now wants impartial investigation – Lavrov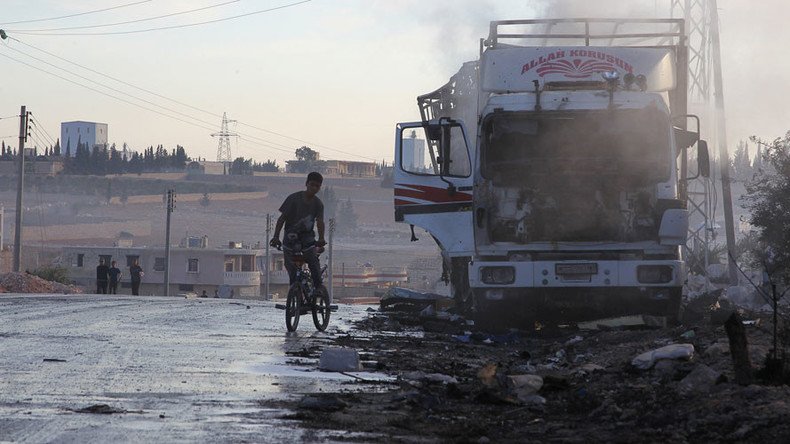 Moscow has provided all the data it has on the attack on a humanitarian convoy in Aleppo, Russian Foreign Minister Sergey Lavrov said at a UN Security Council meeting. Lavrov also called for a full and impartial investigation into the incident.
"There was another unacceptable provocation on September 19 - the shelling of a humanitarian convoy near Aleppo," Lavrov said.
He also noted that at the same time militants had advanced in the 1070 district of Aleppo.
"I am confident that such coincidences require serious analysis and an investigation."
On September 19, a humanitarian convoy consisting of 31 trucks was attacked while heading to Aleppo. According to the Red Cross, 20 civilians and one aid worker died as a result. Initial reports by the organization claimed the convoy had been targeted by an airstrike.
On Tuesday, the UN backtracked on its earlier claims that the convoy was hit by military planes.
"We are not in a position to determine whether these were in fact airstrikes. We are in a position to say that the convoy was attacked," UN humanitarian spokesman Jens Laerke said.
Speaking on the delivery of humanitarian aid to Aleppo, Lavrov said that the Russia and US-backed plan included the creation of a demilitarized zone around the Castello Road.
The minister however added that while the Syrian government forces have started their withdrawal, the militants have not followed suit.
"The government forces began their withdrawal – in accordance with the Russia-US agreements – only to see that the opposition did not follow suit, and even began to fire."
In fact, there have been hundreds of violations by rebel groups in Syria, including those by Ahrar al-Sham, Lavrov said. He added that Moscow has handed over the relevant information to its American counterparts.
"We notified our American colleagues about 300 cases of violation of the cessation of hostilities on the part of Ahrar al-Sham and a number of other opposition groups whose names have been mentioned in the list of those [groups] who joined the ceasefire," Lavrov said.
The view was countered by US Secretary of State John Kerry, who put the blame for the violations of the ceasefire on Syrian President Bashar Assad, calling him a "spoiler." Kerry added that in his view, Assad "does not believe in ceasefire." Kerry also urged that Syrian government forces should be banned from flying over territories held by opposition forces.
Regarding the attack on the humanitarian convoy near Aleppo, the US secretary of state said that following the incident, the parties involved in the cessation of hostilities in Syria "cannot do business as usual."
In order to deliver humanitarian aid in northern Syria, all aircraft should be grounded in the respective area, Kerry went on to say.
He also stressed that without a proper ceasefire in Syria, the country will witness "more dead and more suffering on an even greater scale." Kerry said that the plan he and Lavrov had agreed in Geneva "is far from perfect," but that as of yet there are no alternatives.
Both Kerry and Lavrov spoke in favor of resuming talks on a Syria peace plan.
"Attempts by some participants [of the talks] to put forward certain preconditions or ultimatums, to sabotage the UN Resolution 22/54, are unacceptable," Lavrov said.
"We should not give in to this blackmail. The talks must be resumed immediately," he added.
You can share this story on social media: