French MPs call for CCTV in slaughterhouses after gruesome video goes viral – report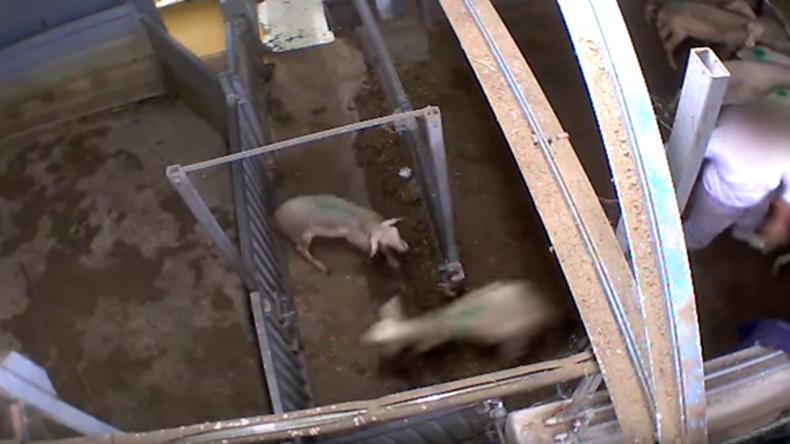 France's National Assembly has issued a report calling for 65 measures to be introduced at abattoirs to improve transparency and remove "inadequate controls" at the facilities. The measures will include setting up CCTV cameras.
The report contains 225 pages, French Le Monde newspaper has reported.
Installing video cameras was among the measures proposed, with the deputies saying the step was needed to monitor animals' welfare, raher than to observe workers.
Another move would be to provide more qualified veterinarians at the facilities, in particular during stunning and killing.
The report was first commissioned in March, but comes after a shocking video was released of a slaughterhouse, containing all the gory details of the killing of the animals there.
VERY GRAPHIC VIDEO
Shot by animal activists L214 at the allegedly "animal-friendly" abattoir in Vigan, southern France, the footage includes workers cutting the throats of sheep during the Muslim holiday of Eid, with the animals fully conscious.
The sheep are also hung by the legs, while shaking and trying to break free.
"It's absolutely scandalous, and extremely shocking," Johanne Mielcarek from L214 told the Local, adding that vets contacted by the group confirmed that the video contained "severe abuse."
It is not the first footage posted by the activist group. They have already released five videos this year, including in February, when the footage emerged of workers' punching and hitting sheep, throwing a lamb at a wall, and decapitating a cow.
Their behavior was described by the activists as "violent and sadistic."
VERY GRAPHIC VIDEO
According to French legislation, since 1964 animals must be stunned when bleeding to avoid pain, with an exception for ritual killings in which an animal can be killed while it is still conscious, with the meat then being considered halal or kosher.
The L214 group has launched a petition to ban the killing of animals without stunning them first. As of Tuesday, it had secured almost 6,000 signatories.

This issue has caused a heated debate among French activists. L214 says that stunning is possible even for religious killings, as it is allowed in some mainly Muslim countries such as Indonesia and Jordan.