Saudi Arabian Airlines jet 'isolated' in Philippines due to false hijacking alarm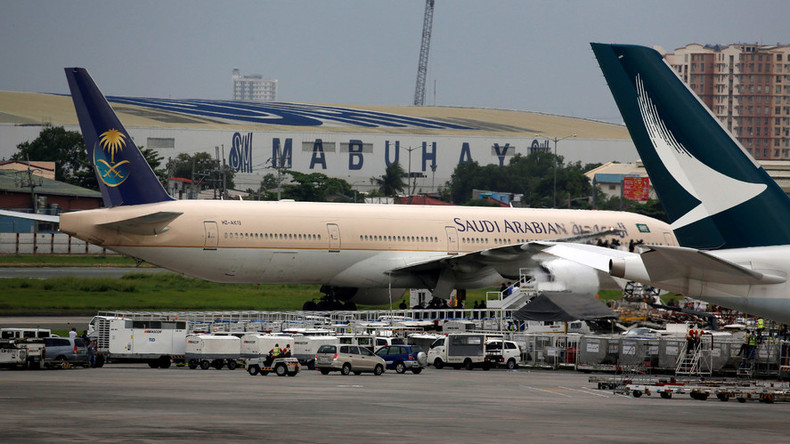 A false hijacking alarm caused a Saudi Arabian Airlines plane to be isolated at an airport in Manila, the Philippines, according to an airline spokesman. The incident, which is now over, took place after the pilot said the aircraft was under threat.
The plane, identified as SVA 872, landed at Manila airport at 3pm local time. It arrived from Jeddah, Saudi Arabia. According to the local ABS-CBN channel, there were possibly around 300 passengers on board.
A statement from the Manila International Airport Authority (MIAA) said it received news of the aircraft being under threat about 20 miles (32km) prior to landing.
"We instructed (the) aircraft to proceed to (the) isolated area," the airport's general manager, Edmund Monreal, told reporters.

"It is fortunate that upon landing...the crew said they made a mistake. However, we can never play around with safety and security," he added.
"It [the button] was unintentionally pushed. But the problem is it was pushed twice."
Monreal said the plane would still be checked thoroughly, as a security precaution.
Meanwhile, the undersecretary for aviation at the Department of Transportation, Roberto Lim, told Reuters that police are "still monitoring as to why a hijack signal was issued by the pilot," adding that "persons will be interviewed."
Some local reports on Twitter initially suggested the plane had been hijacked. Others said the pilot could have pushed the alert button by mistake.
Following the reports, Metropolitan Manila's police chief went to the airport, stating there was a "situation" there, according to local radio.
The MIAA was also sent to the site, along with staff from the PNP Aviation Security Group.
The plane was taken to a secluded portion of runway 6, ABS-CBN News reported.
However, the plane's crew informed the airport upon landing that the distress call made during the flight was a mistake, according to the airport's general manager. Saudi Arabian Airlines also said the alarm was false.
You can share this story on social media: