Israeli police kill 2 Palestinian attackers as wave of West Bank violence intensifies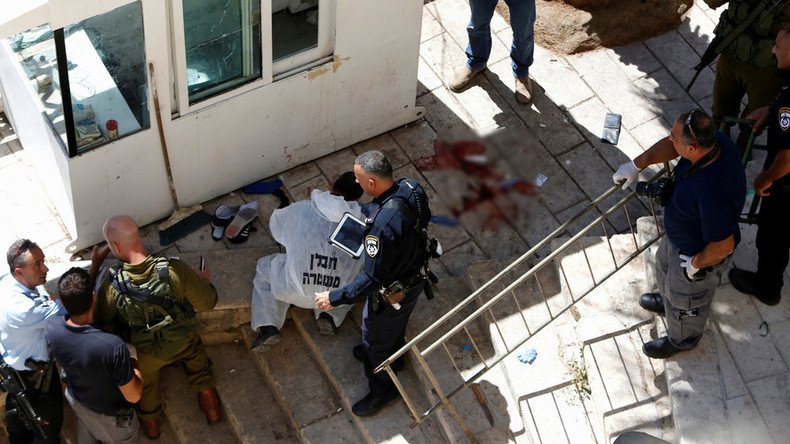 Two Palestinians have been killed by Israeli troops in Hebron after they attempted to stab border police officers. One attacker was killed at the scene, while the other died in hospital. In a separate incident, two Israeli officers were stabbed in Jerusalem.
The attack in Hebron took place near the Tomb of the Patriarchs, which is a holy site to both Muslims and Jews. The two assailants were from Hebron, and were aged 17 and 21, according to the Palestinian Health Ministry. They approached border officials and took out knives reportedly with the intention of stabbing them.
However, Israeli troops opened fire, killing both the Palestinians. Both of the attackers suffered gunshot wounds with one dying at the scene. The second was taken to a Jerusalem hospital in a critical condition, but later succumbed to his injuries. No Israeli troops were injured during the incident.
The shootings came hours after two police officers were stabbed by an attacker in East Jerusalem A 38-year-old female officer is in intensive care after suffering stab wounds to the neck, while a 40-year-old male officer suffered moderate injuries.
The attacker was shot and is in a critical condition in hospital.
The death toll has now risen to six during a spike in violence since Friday, with five Palestinians and a Jordanian being killed. Nine Israeli's have been injured during the same period. The majority of the incidents have taken place in and around Hebron, where Palestinians live in close proximity to Jewish settlers and Israeli troops.
At least 217 Palestinians have been killed in violent incidents since October 2015 in the West Bank, East Jerusalem and the Gaza Strip, according to Reuters. A total of 146 were identified by the Israeli authorities as assailants, while the rest were killed in clashes and protests.
There had been a relative lull in attacks by Palestinians against Israelis, which had peaked in October and November 2015.
During more than two months of unrest, Israeli security forces killed 105 Palestinians, 65 of whom were said to be attackers. Palestinian assailants killed 19 Israelis as well as one US citizen, Reuters reported.
However, Swedish Prime Minister Stefen Lofven caused an outcry in Israel by stating that the stabbing attacks carried out by Palestinians were not terrorist attacks.
"No, it [stabbing attacks] is not classified as that [terrorism]. There is an international classification when it is, or is not. What I know is not classified as terrorism," Lofven told Sweden's TT news agency in December.
His comments came in the wake of Swedish Foreign Minister Margot Wallstrom saying that Israel had resorted to the unlawful killing of Palestinians.
"The response [to Palestinian stabbing and car-ramming attacks] must not be of the kind – and this is what I say in other situations where the response is such that it results in extrajudicial executions or is disproportionate in that the number of people killed on that side exceeds the original number of deaths many times over," Wallstrom said.
You can share this story on social media: