5G fighter's rapid-fire cannon test-fired in Russia (VIDEO)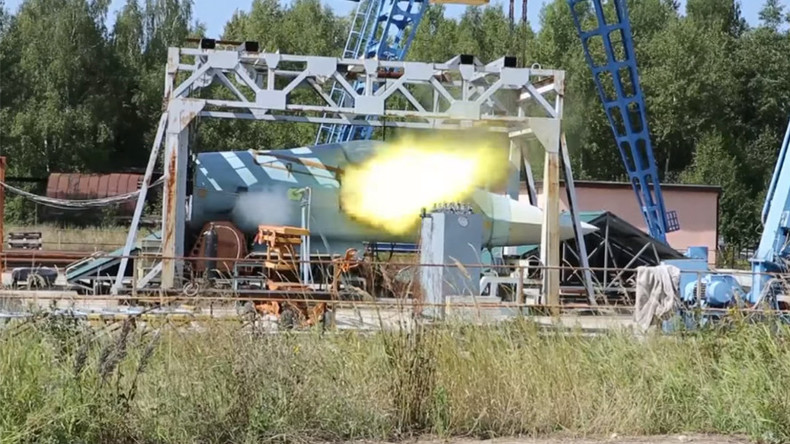 A live test-fire of a rapid-firing autocannon designed for the T-50 fifth-generation fighter jet has been filmed by Russia's United Aircraft Corporation (UAC). The short but stunning footage conveys the power of the new weapon.
The test took place at a testing ground for aircraft systems located outside Moscow.
The one-minute footage, uploaded to UAC's website and the official YouTube channel, shows the gun – reportedly called 9-А1-4071K – mounted on a fixed stand simulating the front part of the T-50.
Critical information regarding Russia's newest and most advanced fifth-generation fighter jet remains classified, but it has been revealed that the autocannon is fitted to fire 30mm rounds.
The manufacturer says it is capable of penetrating most modern armored targets. It can fire high explosive, fragmentation, and incendiary munitions.
The new gun, an upgraded version of the Gryazev-Shipunov GSh-30-1 aircraft autocannon, has been designed by KBP Instrument Design Bureau.
The new weapon's predecessor weighs only 50kg, making it the lightest 30mm gun in the world, and has a remarkably high rate of fire with up to 1,800 rounds per minute. It uses a unique evaporation cooling system to prevent detonation of high explosive rounds inside a heated barrel.
The gun's maximum effective range is 200 to 800m against aerial targets and is 1,200 to 1,800m against surface or ground targets, according to open sources.
In combination with a laser range-finding and targeting system, it is said to be extremely accurate as well as powerful. The GSh-30-1 is mounted on several different types of fighter aircraft, including Su-30, Su-35 and other jets of the Sukhoi family.
Earlier this year, Commander of the Russian Air Force Viktor Bondarev said the military hopes to start mass production of the new fifth-generation jets soon, with the first planes coming in 2017.
The T-50 fighter jets are being manufactured by KnAAPO (Komsomolsk-on-Amur Aircraft Production Association) in the Russian Far East.
You can share this story on social media: