TNT traces found in EgyptAir MS804 debris – report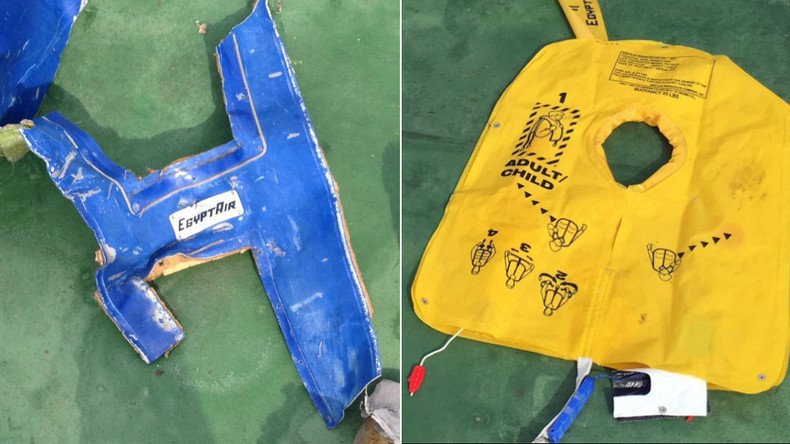 French investigators reportedly found traces of TNT in debris from the EgyptAir Airbus A320 that crashed over the Mediterranean in May. Though the origin of the traces is unclear, it adds to speculation that the crash was an inside job.
Investigators from France's Criminal Research Institute of the National Gendarmerie (IRCGN) discovered traces of the explosive last week when visiting Cairo, Le Figaro reported on Friday.
Egyptian authorities reportedly did not allow French investigators to examine the debris more thoroughly, and the origin of the TNT traces still remains unclear, a source close to the investigation told the newspaper.
To confirm the finding, the Egyptians want to draft a joint report with the French, but France's investigators are unwilling to do so unless adequate access to the debris is granted, Le Figaro's report said.
EgyptAir Flight 804 took off at Paris Charles de Gaulle airport on May 19 and crashed over the Mediterranean en route to Cairo.
No mayday call was received by air traffic controllers or nearby radio stations, though the aircraft systems detected smoke in one of the A320's front lavatories and in the avionics bay.
Flight recorder audio data also mentions a fire on board the aircraft, the investigation said in July. Later, the Greek military said, citing its own radar data, that the ill-fated plane took "sharp turns" shortly before disappearing from the screens.
There were 66 people on board, including 56 passengers and 10 crew members. No survivors have been found.
The French-Egyptian investigation is still ongoing, but preliminary statements made by aviation and security officials say that a terrorist attack is considered the likely cause.
Black box data points to fire on board EgyptAir MS804 flight before crash

Egyptian aviation authorities said in May that an inside job might have brought down the plane, ruling out technical failures.
Later that same month, it was revealed that the crashed Airbus A320 had been vandalized by ground personnel at Cairo Airport about two years ago, the New York Times reported, citing three EgyptAir security officials.
"We will bring this plane down" was scratched in Arabic on its underside. Egypt's security services were quick to point out that the message was related to domestic political turmoil rather than to a literal threat from militant groups, such as the Muslim Brotherhood.
You can share this story on social media: