Russian Arctic river turning blood-red 'not a one-time thing', NASA satellites show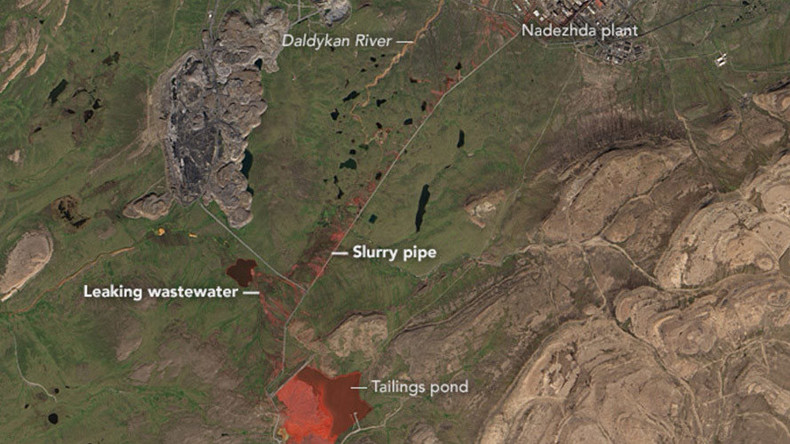 A river outside Russia's Arctic city of Norilsk which recently made headlines for its mysterious red hue has actually changed color multiple times in the past, NASA satellites have showed.
Photographs of the crimson–hued Daldykan River emerged online at the beginning of September. However, according to NASA, this is not the first time that waterways in Norilsk region have changed their color.
READ MORE: Plagues of Siberia: Russian Arctic river mysteriously turns blood-red
On Thursday NASA posted satellite images of the waters in Norilsk region obtained in 2016 and 2001 and compared the two. Both of the images depict red water flowing for several kilometers along the length of a slurry pipeline which starts at the Norilsk smelters and ends at a tailings pond (a storage facility for chemical waste). The scarlet waters follow the path of Daldykan River.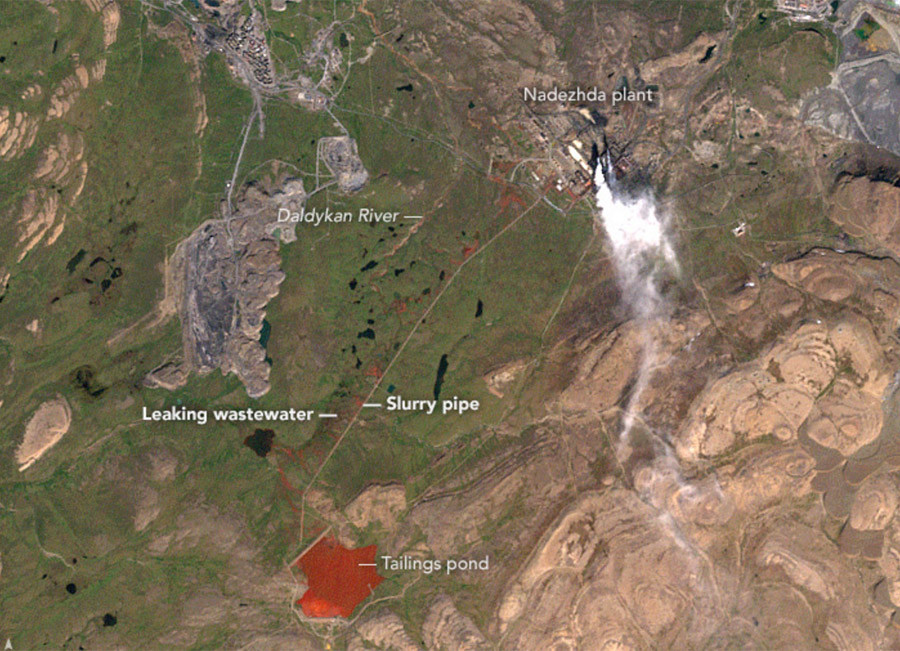 The red hue was also detected by satellites in July 2015, July 2014, August 2013, July 1998, and September 1997. Therefore, the color-change of the waters in the area can hardly be called "anomalous," scientists said.
"Satellite imagery shows that waterways near the Siberian town blushed red long before they achieved internet virality in 2016. Combined with ground reports and scientists' observations, the space-based images reveal that these waterways have changed color several times in recent decades," the press release by NASA Earth Observatory states.
What is more, Gareth Rees, a researcher at Cambridge University, said he saw the red water flowing with his own eyes in the mid-1990s.
"During the fieldwork, my colleagues and I noted at least one river that was running red, and [we saw] areas of drying-out red sediment," he wrote in an email. "These effects are very marked and widespread and can be mapped using remote sensing methods."
The mystery behind the discoloration of Daldykan River is yet to be solved and a number of theories have been mentioned. Among them is the activity of Norilsk Nickel Plant, one of the largest producers of nickel and platinum group metals. In particular, some reports say the river's scarlet hue might have been caused by iron oxide (rust) present in the nickel deposits. Russia's Ministry of Natural Resources named the rupture of a slurry pipeline as a plausible cause.
Although initially denying responsibility for the dramatic change in color, Norilsk Nickel said on September 12 that it did indeed accidentally cause it. The company was replacing an old waste pipeline with a new one, and flushed residue into a temporary reservoir, but did not take into account the possibility of heavy rain.
"Before connecting it, they injected water into the pipeline to clean it out. They built a temporary dike to contain any leakage, but the work coincided with unusually heavy rain last week which caused the dike to overflow, allowing water with iron salts to enter the river, turning it bright red," Nornickel Chief Operating Officer Sergey Dyachenko told RT.
"There is no danger for fish and people. Iron ore hydroxide is often found in the rivers. Now the company will be replacing and cleaning up the soil. We hope that it will not happen in future," he added.
Situated in an area with high abundance of underground deposits of metals, the Siberian city of Norilsk has been labeled as one of the world's worst pollution hotspots. In a 2008 study published in Eurasian Soil Science the city was "characterized by high concentrations of heavy metals, the absence of trees, and the disturbance of organic matter mineralization."