'Funeral for the EU': Le Pen slams Juncker's speech, reiterates vow to hold Frexit referendum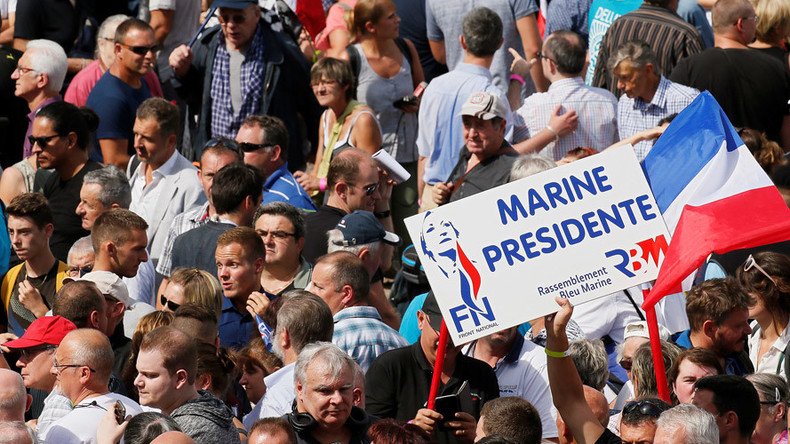 Marine Le Pen, leader of the French right wing National Front party, compared Jean-Claude Juncker's State of the Union speech to a "funeral for the European Union" and branded it "insipid and faulty."
The prominent eurosceptic politician also reiterated her vow to hold a referendum on EU membership if elected as French President in 2017 during her speech at EU Parliament.
In his annual address, Jean-Claude Juncker voiced "respect and regret" at the UK's decision to leave the union, but said the EU would survive.
"Allow me to state, we respect and at the same time regret the UK's decision, but the EU as such is not at risk," said Juncker.
Le Pen commented on the "regrets" of European Commission president.
"Brexit has really broken a taboo. The British have shown us that you can leave the European Union and you can come out better," said Le Pen. She called fears about the consequences of Brexit a "lie," since harmful impact of the decision was widely exaggerated.
"The catastrophic visions were just a lie. The UK is doing quite well, the shock that you wanted to see has now turned into trust, everybody thought there was going to be apocalypse falling on the UK but that didn't happen."
In his speech, Juncker admitted that the EU may not have "enough union", with populist parties gaining power.
He also spoke about social justice, migration and security.
Marine le Pen said that Juncker's words on the EU are a "magic formula" that "has no power."
"Your answer for everything, no matter what, is 'more Europe'. Terrorism, immigration, economy, agriculture? You count on Europe to protect us," said Le Pen.
"What is Europe protecting us from? From prosperity?" she added.
Marine Le Pen welcomed the outcome of Brexit referendum in June and promised to hold a similar referendum in France. The potential withdrawal of France from the EU is commonly referred as 'Frexit'.
According to a poll by Pew Research Center in June before the British referendum, 61 percent of France supported departure from the EU. The result was second only to Greece's 71 percent.
You can share this story on social media: