Russia, China to practice island defense during eight-day drill in disputed sea (PHOTOS, VIDEO)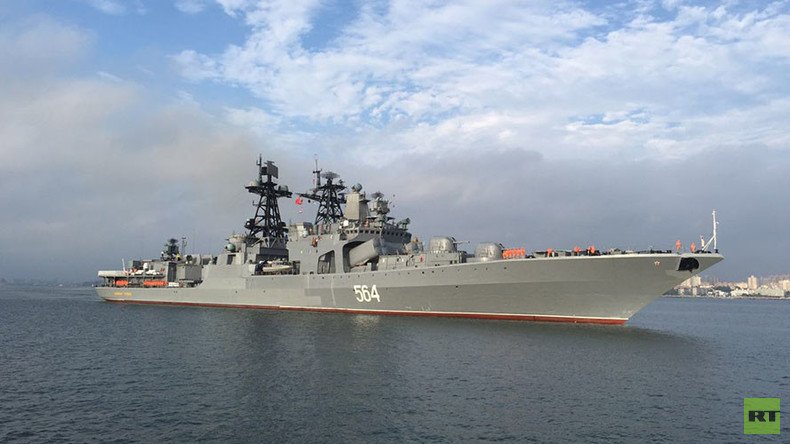 Russia and China are launching an eight-day naval exercise in the South China Sea on Monday. The drills will include anti-submarine warfare, vessel rescue, joint air defense, and taking an island with amphibious and airborne troops.
The South China Sea is a major trade route, as well as a source of regional tension, with several powers, including China, contesting sovereignty over parts of the sea. The Russian-Chinese drill, which is being held off China's southern Guangdong Province, is not directed against any third party, the two countries' militaries said.
"Our cooperation is not aimed against anyone and is meant to protect our mutual interest and ensure security in all naval regions. It's good to have two powerful nations cooperate," said Admiral Aleksandr Fedotenkov, deputy commander of the Russian Navy.
Both countries provided Navy surface ships, submarines, fixed-wing aircraft, ship-borne helicopters, and armored amphibious equipment, said Chinese Navy spokesperson Liang Yang.
Most of Beijing's forces come from China's Nanhai Fleet. Russia sent five warships from its Pacific Fleet, led by anti-submarine destroyer Admiral Tributs.
The active phase of the Joint Sea 2016 exercise is to begin on Thursday and last until Monday next week.
RT's Roman Kosarev is reporting from the scene.
This year, Russia and China are holding their fifth naval drill under that name. The first was held in 2012 in the Yellow Sea, the second off the coast of Russia's Far East in 2013, and the third in the East China Sea in 2014.
Last year, the fourth exercise was conducted in two phases, with the first in the Mediterranean in May, and the second in the Peter the Great Gulf, the waters off the Clerk Cape, and the Sea of Japan in late August.
You can share this story on social media: