Voting Vader: Chewbacca, Pink Panther cast ballots in Belarus election (VIDEO)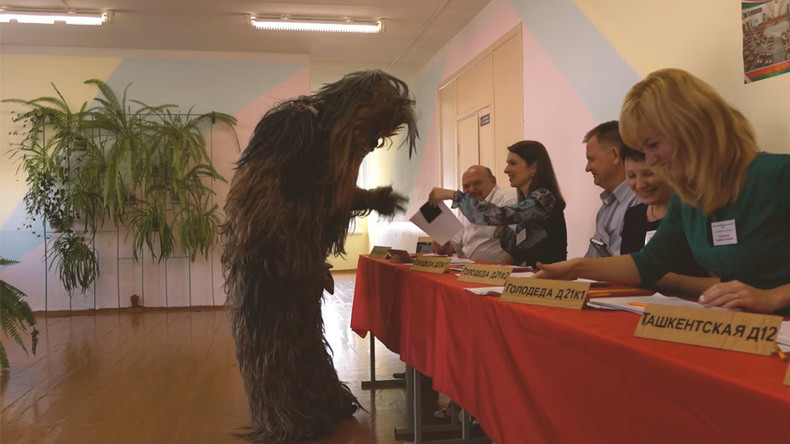 In Belarus' parliamentary election, every vote counts. Just ask Darth Vader, Chewbacca, and the Pink Panther – all of whom cast their ballots at the polls. The results were almost as fascinating, with two opposition leaders managing to win seats.
Voters would have been forgiven if it seemed they had stumbled upon a costume party, rather than an official polling station on Sunday. But they would soon learn they were in the right place, and that sometimes even the most unlikely of personalities have political opinions.
From Star Wars characters to everyone's favorite cartoon panther, to Patrick the Star from Spongebob Squarepants, polling stations were full of unique entertainers exercising their right to vote – and turning a few heads in the process.
But the crazy array of voters wasn't the only thing that made the election noteworthy – it also had an unusual political outcome, with opposition leaders managing to win parliamentary seats for the first time since 2004.
The history-making winners were Anna Konopatskaya, a member of the United Civil Party, and Elena Anisim, a linguist and civil activist from the Belarusian Language Society.
The result is seen as a major milestone for the country, particularly after it was widely criticized for allegedly surpassing opposition parties in the past. It is also thought to show a desire to improve the nation's relations with Western countries.
The results come after President Alexander Lukashenko said he wanted the opposition to "exist" and "be constructive."
"I don't want the opposition to be a fifth column in the country," he told reporters after casting his vote.
Whether or not the president approves of Darth Vader and Chewbacca taking part in the elections remains unknown.