Attack over women's 'shorts' in southern France inflames social media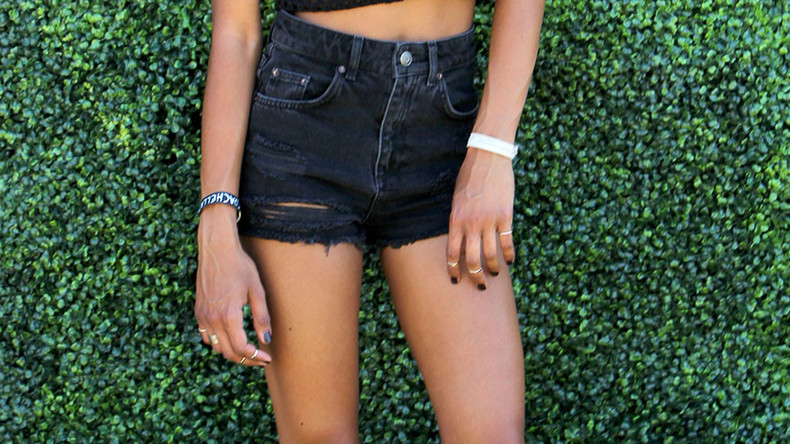 Controversy around female clothing in France gained further momentum after a dozen young men assaulted a family in the country's south. Males suffered a severe beating after attackers deemed the women's clothes excessively revealing.
The incident occurred last Sunday in the city of Toulon, southern France. According to local prosecutor Bernard Marchal, the family of two sisters, their husbands, their brother and three children aged between 10 and 14 had been riding bikes and rollerblading through an eastern neighborhood of the city. They were approached by a group of about 10 young men, who insulted the women for wearing 'inappropriate' clothing. The husbands and brother intervened and were severely beaten. One of them suffered multiple facial fractures, and another got his nose broken.

"They [the attackers] shouted to them [the women] 'whores' and 'go on, get naked'," the Valeurs Acuelles magazine quoted Marchal as saying.
Two suspects, reportedly one 17-year-old and one 19-year-old, were apprehended on Tuesday. It is thought they have a preexisting criminal record. The identity of the alleged perpetrators remains undisclosed. An investigation is underway to track down the others.

Mayor of Toulon Hubert Falco said that "attacking my fellow citizens in shorts is abnormal and pitiable."

"I am happy that thanks to the efficiency of the national police and CCTV cameras of the city, we could apprehend the perpetrators. One does not attack a woman because she is wearing shorts. This heinous act must be punished harshly," France Bleu quoted the Mayor as saying.

One of the victims, named only as Marie, commented on the incident to the Nice Matin newspaper on Friday.

"We were not wearing shorts. We were in sportswear. One youngster badmouthed us and then things quickly escalated," newspaper quotes the victim.
There is no information on the alleged perpetrators' identities, nationalities, citizenship or religion. However, some in France linked the attacks on short-wearers to the burkini controversy and Islam in general. Julien Leonardelli, the department secretary for the far-right National Front in Haute-Garonne, claimed on Twitter, that "Sharia is already installed in Toulon."
Politicians and supporters shared the news of the incident on social media under a hasthag #TousEnShort ('All In Shorts'), to express their support for the victims. Some posted their own photos while wearing shorts.
Caption reads: "How many women will be attacked for wearing shorts?"
Caption reads: "Today I express my Islamophobia openly."
Caption reads: "My outfit for today."

It is not the first incident revolving around shorts in Toulon. The #TousEnShort hashtag emerged in June, after a previous attack on a woman wearing shorts. An 18-year-old girl named Maude Vallet was insulted, harassed and spat on by a group of five girls while on a bus. Her denim shorts played a role in the attack.
Vallet posted a picture of her outfit on Facebook, arguing that men can walk around in any items of clothing they want, and even go shirtless, and do not face the harassment she faced. After the incident, a campaign to support the victim promptly launched. According to local media, about 100 women wearing shorts gathered in Toulon for a "short walk."
You can share this story on social media: