Push to punish Barroso for new Goldman Sachs gig reaches 130k-plus signatures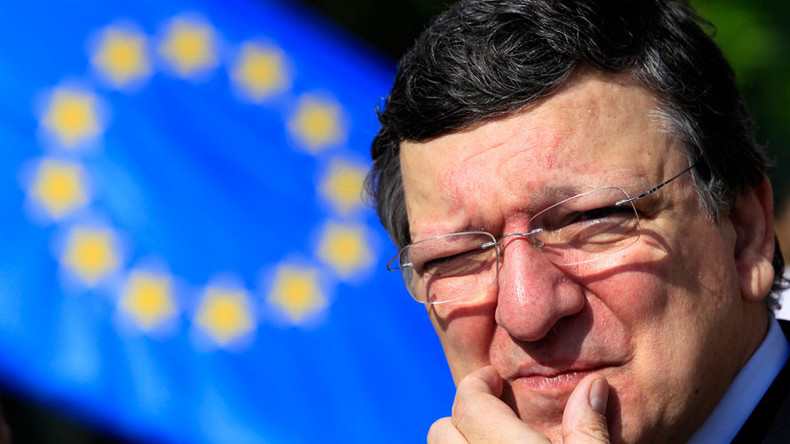 More than 130,000 people want former EU president José Manuel Barroso to be punished for his new gig with the "financial terrorists" at Goldman Sachs, where he is supposed to help "limit the negative effects of the Brexit."
The petition comes amidst growing criticism over the ethics of such a move, particularly given the US banking firm's intimate role in the EU economy and Greece's financial crisis.
Barroso headed the EU executive from 2004-2014.
With a wealth of inside information on policies that he himself created, critics believe he is sure to exploit any loop-holes and that his input could make the exit difficult for the EU.
Members of the EU parliamentary intergroup on integrity, transparency, corruption and organized crime (ITCO) called on Barroso's EU successor, current European Commission president Jean-Claude Juncker, to withhold the Portugal native's pension.
A letter from Ombudsman Emily O'Reilly to Juncker criticized the open-endedness of the EC's Code of Conduct.
Goldman Sachs helped Greece hide its debt in 2001 when it lent the country $2.8bn, wiping two percent off the country's debt. Initially Greece looked set to lose $500m in the deal, but 9/11 sent bond yields plunging. The debt of the world's oldest democracy to Goldman Sachs was finally capped at $5.1bn.
Barroso oversaw the Banking Union initiative following the global financial crisis, creating what they claim are stronger regulations for banks in an attempt to prevent a repeat of the 2008 collapse.
At Goldman Sachs, Barroso's expertise will prove invaluable as the UK negotiate the terms of their exit from the EU and the single market following Brexit.
"It's the worst disservice Mr Barroso could do to the EU," Harlem Desir, France's European affairs minister said, warning it would fuel anti-EU sentiment across the bloc.
Goldman Sachs claim they pursued Barroso for the role before Brexit became real and that his appointment was not related.
Barroso is not the first official to go from public office into the private world of Goldman Sachs with numerous other European and American officials making the move.
Barroso's former colleague, European Central Bank President Mario Draghi, was also on the payroll of the financial institution at one point, as was Bank of England Governor Mark Carney. US Treasury Secretaries Robert Rubin and Henry Paulson have also clocked in at Goldman Sachs offices.