Big screen whistleblower: Edward Snowden to appear in Oliver Stone film about himself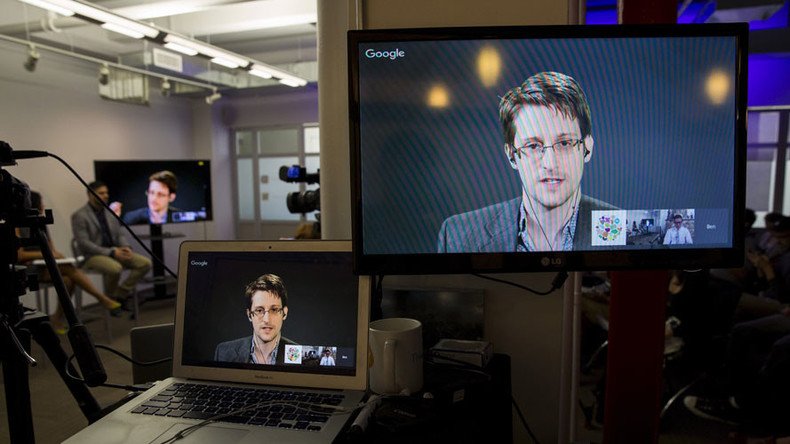 Being stranded in Moscow seems to come with certain opportunities – just ask Edward Snowden. The NSA whistleblower will appear in the upcoming film "Snowden," which was partly filmed in the Russian capital, according to the movie's executive producer.
Although actor Joseph Gordon-Levitt will play Snowden in the upcoming film, the NSA whistleblower will be making an appearance on the silver screen, executive producer Igor Lopatenok told RIA Novosti.
"Edward will appear in the film; he had one day of shooting in Moscow. We shot mostly in Munich, as well as in Hawaii, Hong Kong, and in Washington, where he could not come...," Lopatenok said.
The executive producer went on to say that Snowden took part in around ten meetings in Moscow for the Oliver Stone film, and that Gordon-Levitt also met with the whistleblower. In fact, one particular scene in the movie will show the real-life Snowden in the same frame as the actor portraying him.
"...We have a moment when they were both in the frame... and I think Joseph was able to convey the character of Edward, he did it," Lopatenok said.
The film is set to be released in Russia on September 15, and in the US one day later, but Russian viewers will be treated to an extra four minutes of the film, which US viewers won't see.
"...The Russian audience is lucky to see a little more," Lopatenok said, adding that some scenes were cut from the US version.
However, regardless of which country the movie is viewed in, it will make film-goers re-evaluate their views on internet privacy and social media, Lopatonok told Sputnik.
"For us, it is not the box office that matters, but the audience's reaction. Looking at Stone's previous films, they work for a long time; people keep revisiting them. In this case, we have a big Oliver Stone film, made in his style," Lopatenok said.
Snowden has approved the film and its story, Lopatenok said, while praising Gordon-Levitt's portrayal of the whistleblower.
'The topic of Snowden is very controlled'
The entire topic of Snowden is "controlled," according to Lopatenok. By way of example, he described a situation involving BMW, which used to sponsor almost all the films shot in Germany produced by Moritz Borman, a famous producer credited for Alexander and Terminator 3: Rise of the Machines, who is involved in the Snowden film production as well.
However, when BMW learned that Borman was producing a film about Snowden this time, it asked him to return the cars, Lopatenok claims.
"We were shooting in Munich, [BMW] gave us cars, and then we got a call from their representatives who asked us to return the cars because their American shareholders were against the story. The subject of Snowden is very controlled," he said.
The producers feared that American special services might try to hack into the computers being used in the film production process, but Lopatenok believes that they took all possible precautions.
"We were able to take all the precautions [against hacking], however, we haven't noticed direct intervention of [US] security services. Either we haven't seen them, or they worked really great," he joked.
Lopatenok added that the team learned how to use encrypted messenger applications, non-traceable browsers protected by cloud storage, and even how to cover their cameras.
"After this film, people will perceive security of their e-mails and social networks differently," he concluded.
In 2013, Snowden – a former contractor for the US National Security Agency (NSA) – revealed that the personal communications of dozens of world leaders had been monitored by US intelligence agencies. He has been living in Russia ever since, after being granted asylum on the grounds that he would face espionage charges in the US.
You can share this story on social media: