French Goebbels? Writer claims French Army will clear Muslims from France as Israel did in Gaza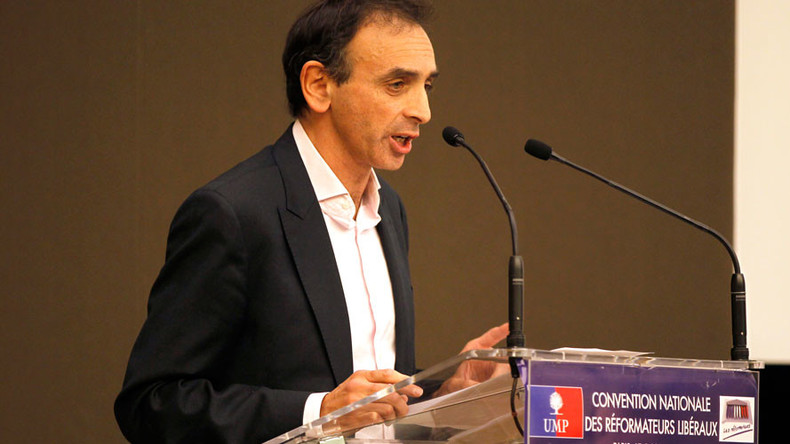 Social media is furious after controversial French writer and TV personality Eric Zemmour said that the French Army will reconquer its metropolitan areas and suburbs and clear them from Muslims as Israel did in Gaza.
Zemmour was talking to the French RTL news channel about his latest essay "A five-year term for nothing," published Wednesday.
"French people have become foreigners in their own land," he said.
Zemmour said that in all metropolitan areas "there are no French people, but there are only Muslims."
"When a woman is totally veiled [wears a Muslim veil], when a man wears clothes resembling the ones of the prophet of the 7th century, when they [Muslims] call a young girl "a whore" for wearing a mini-skirt, when they look [with disapproval] at people drinking alcohol, then it's not France."
Zemmour criticized the French policy of integrating Islam into society.
"We build mosques, we organize 'Islam for France' [movements]. This is the worst solution to solve the problem," he said, adding that French society should be "de-Islamized."
One of the extracts of his book speaks about a possible operation against Muslims led by France with the help of Israeli military consultants.
"The General Staff of the [French] army knows that a day will come when he will regain the lands [in France] which have become foreign in our own soil. The plan has already been developed, it is called 'Operation Ronces,'" the writer says.
According to Zemmour, the plan "was developed with the help of Israeli army specialists who have shared their experience in Gaza with their French colleagues."
When the RTL anchor asked Zemmour about who provided him with the information, the writer answered that it was a "source close to the General Staff of [the French] Army."
Social media has expressed outrage over the recent comments by Zemmour. Some even compared him to Joseph Goebbels, Reich Minister of Propaganda in Nazi Germany.
"No media should give the floor to Zemmour. His Islamophobia does not fit into the framework of freedom of expression," wrote @dtbbabs.
"Zemmour is already delirious, he is consumed with hatred for others," added @Umani_2B.
Some users slammed RTL France for inviting Zemmour for their show. "RTL France, this show is inaudible," wrote @ MSCcaroF1.
"How can we allow such crap on a prime time radio!?" wondered @LeHavreLutte.
Others simply did not take his words seriously.
"So I get up at 8 am to hear Zemmour say France is invaded and colonized? So I went back to bed," joked @No_ippo2 on Twitter.
READ MORE: French TV star fired after call for Muslims' deportation to avoid 'chaos & civil war'
Zemmour is known for his controversial comments about immigration and Muslims. In 2014, he was sacked from the iTELE channel for saying that Muslims should be deported to avoid "chaos and civil war." His comments sparked a heated debate, with some on the right defending him and leftists denouncing him as a racist.
In 2011, the Seventeenth Criminal Court of Paris gave Zemmour a suspended fine of €2,000 ($2,254) for his racists views. In particular, he said that most traffickers are "Arabs or Blacks" and employers have the right to reject them.
Zemmour, born to Algerian Jews who immigrated to France in the 1950s, is also well-known for his bestselling book, "The French Suicide," which has sold over 250,000 copies. It touched on problems in French society which he believes stem from increased immigration, feminism, and homosexuality.
You can share this story on social media: