Walk on the wild side: Lion cub roams Russian city's streets, poses for pics with passersby (VIDEO)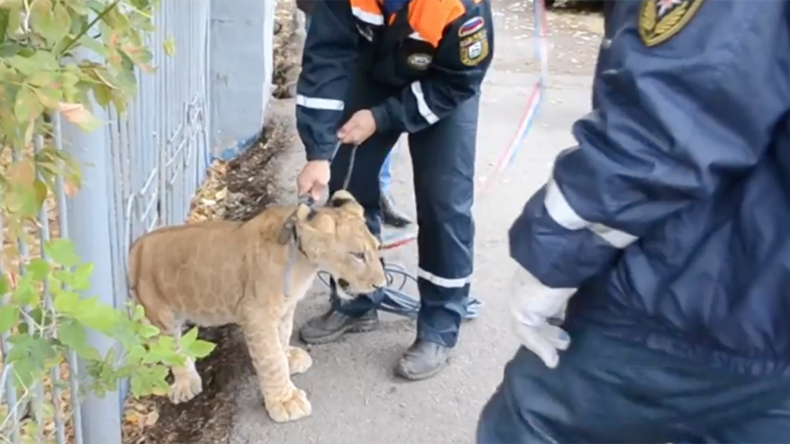 A cute lion cub has been seen roaming the streets of Ufa, Russia. The (not-so-big) cat appeared to be friendly enough, and was not angered by passersby stopping to take selfies. The cub turned out to be a local schoolboy's birthday present.
People who saw the lion cub on the street were quick to contact the authorities, and were even brave enough to handle the animal while waiting for the professionals to arrive.
One of the passersby managed to tie the cub, which had a collar on, to a nearby fence.
Before emergency officers arrived, curious onlookers whipped out their cell-phone cameras to snap the 'King of Beasts', who seemed to take it all with regal serenity.
The animal was taken to the Park of Foresters in Ufa, where it was given temporary shelter. The collar was a clear sign that the budding predator was not wild.
It eventually turned out that the lion cub was named Sherkhan, and lived in a family residing near Ufa.
Sherkhan had been lost while being transported home from a vaccination at a vet clinic, local news website Ufa1.ru reported.
"Sherkhan had to be vaccinated in Ufa, my friend with a van volunteered to help," the owner of the cub, Flur Mullagayanov, told the news outlet.
After the five-month-old lion received the treatment in the clinic, it was taken back in the van. "When we arrived [home], we gasped – the lion was not in the car," he said.
Sherkhan's owners had searched for the cub everywhere before finally finding their pet, they said.
The cub suffered stress, but is currently relaxing at home, local media reported.
According to Mullagayanov, the lion cub was given as a birthday present for his son, a second grade schoolboy.
Sherkhan is apparently not bored by life with the Mullagayanov family. It has a huge territory of 40 hectares to explore and is not alone, as the family also has horses, rabbits and even a peafowl